As an online broker, AxiCorp has quickly become a major player, but you're wondering if it's the right choice for you. In this full review, we'll give you the inside scoop on everything AxiCorp has to offer so you can decide if it should be your new go-to broker.
From regulation and security to trading options, fees, and support, we'll cover it all. By the end, you'll know if AxiCorp is the real deal or just another scammy broker trying to take your money.
An Overview of AxiCorp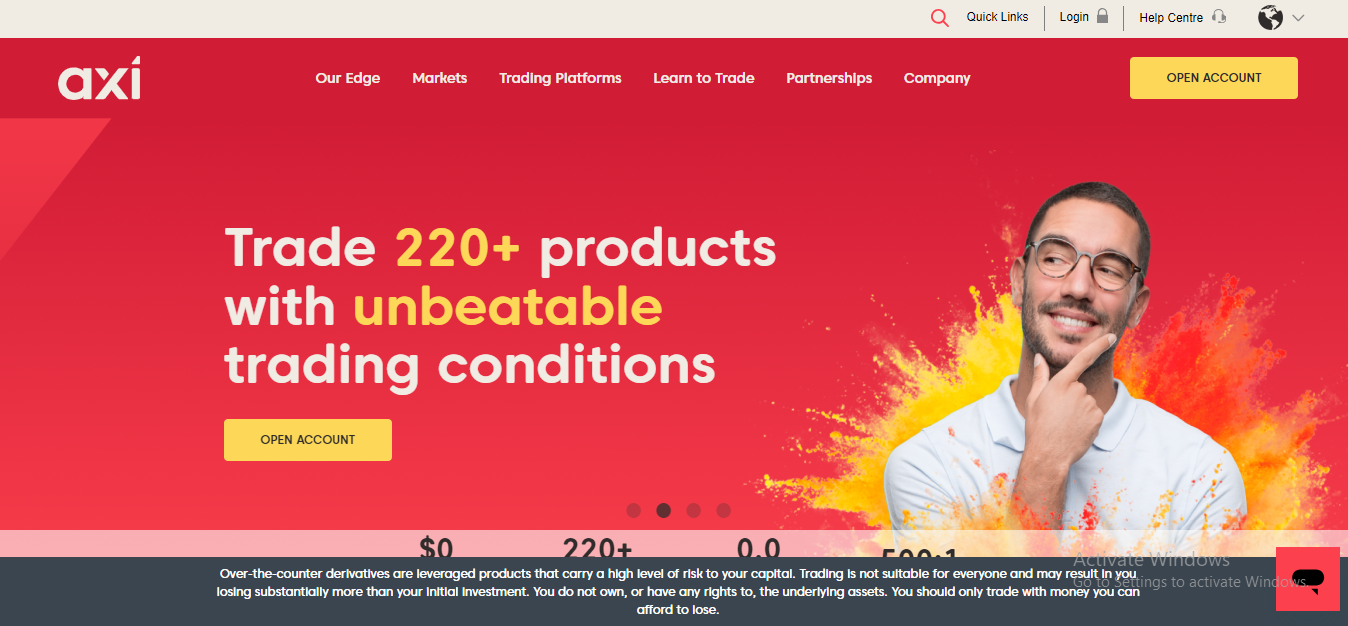 AxiCorp is a global financial services provider, specializing in online trading and investment solutions. With a presence in over 150 countries, AxiCorp offers a range of trading instruments including Forex, commodities, indices, and cryptocurrencies.
Founded in 2007, the company is known for its advanced trading platforms, educational resources, and customer support. AxiCorp aims to empower traders of all levels by providing access to the financial markets and innovative trading tools.
The company's commitment to transparency and regulatory compliance, along with its extensive industry experience. It has contributed to its reputation as a reliable partner for traders seeking diverse and dynamic investment opportunities.
Regulation and Security of AxiCorp
When it comes to regulation and security, AxiCorp takes it very seriously. As an Australian-based broker, AxiCorp is regulated by the Australian Securities and Investment Commission (ASIC). This means your funds and data are protected under Australian laws and regulations.
AxiCorp is also a member of the Financial Services Complaints Ltd (FSCL), an approved external dispute resolution (EDR) scheme. This gives you an added layer of protection should any issues arise.
To keep your account and information secure, AxiCorp uses encryption technology and two-factor authentication. They also regularly monitor accounts for any suspicious activity. You can feel confident your money and data are in good hands.
What you Can Trade on AxiCorp?
AxiCorp offers a wide range of tradable assets to suit any trader's needs. You'll find all the major forex pairs, cryptocurrencies, stocks, indices, commodities, and ETFs.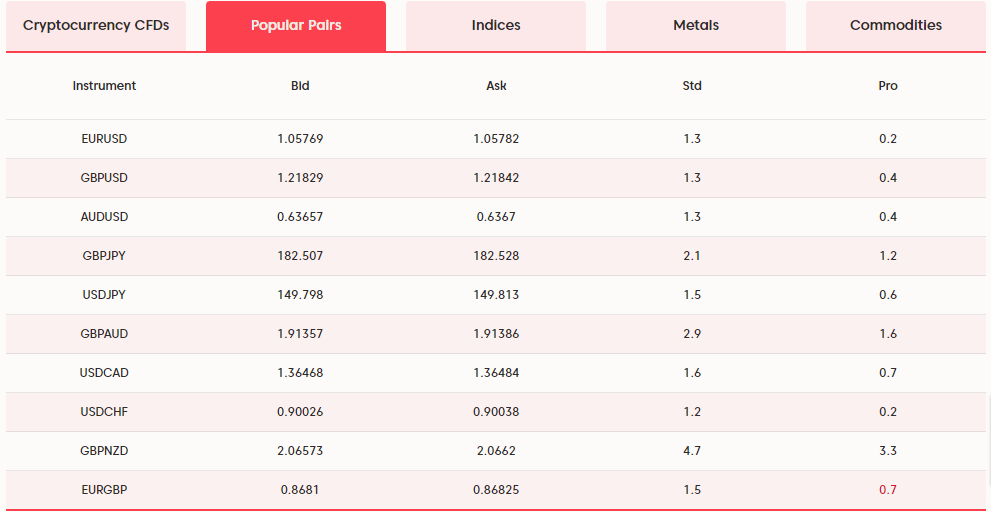 Forex
Trade over 50 major, minor, and exotic currency pairs with tight spreads and up to 500:1 leverage. Popular pairs include EUR/USD, GBP/USD, and USD/JPY.
Crypto
Speculate on the price of major cryptocurrencies like Bitcoin, Ethereum, Litecoin, and Ripple without actually owning the assets. Crypto CFDs offer 24/7 trading with 100:1 leverage.
Stocks
Access over 3,000 stocks from 23 international exchanges including NYSE, NASDAQ, LSE, TSE, and ASX. Major tech stocks, banks, and other global brands are all available to trade with competitive commissions.
Indices
Follow and trade the world's most important stock indices from the US, Europe, and Asia Pacific. Popular indices include S&P 500, FTSE 100, DAX, Nikkei 225, and Hang Seng Index.
Commodities
Trade CFDs on gold, oil, natural gas, copper, and soft commodities without taking physical delivery. Commodity CFDs provide exposure to price movements with flexible leverage up to 200:1.
ETFs
AxiCorp offers a variety of major ETFs to trade that cover different sectors, markets, and asset classes. ETF CFDs can be traded with leverage for greater exposure to price movements.
Fees of AxiCorp
AxiCorp offers very competitive fees compared to other brokers. They keep costs low so you can keep more of your money in your own pocket.
Minimum Deposit
To open a live trading account, AxiCorp requires a minimum deposit of only $100 AUD. This low barrier to entry allows even beginners with limited starting capital to access the markets.
Payment Methods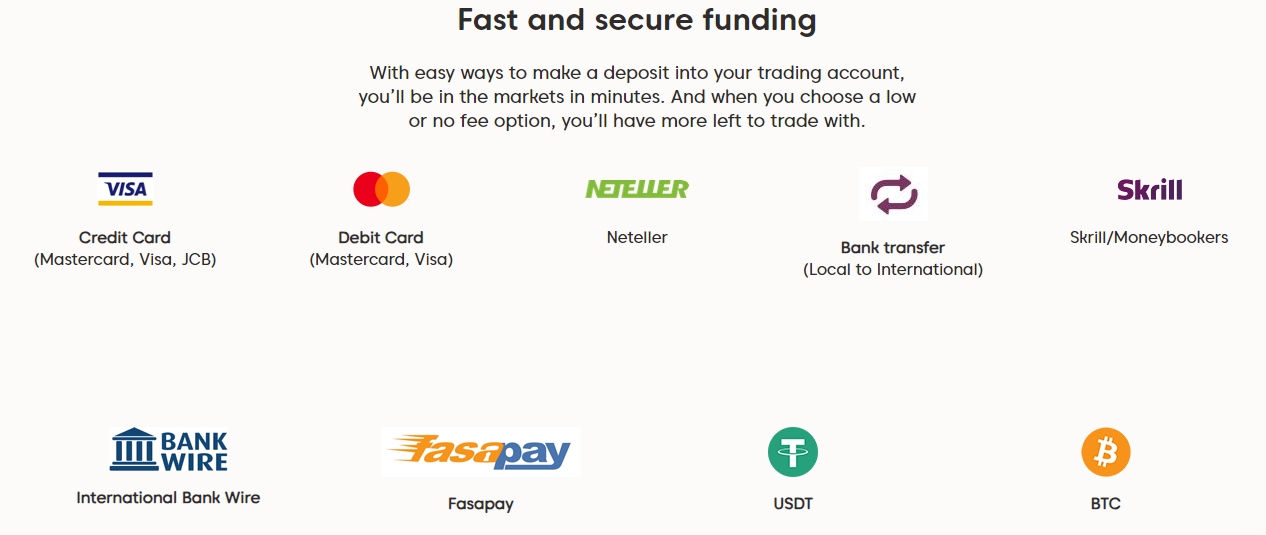 AxiCorp accepts deposits and withdrawals via debit/credit card, bank wire transfer, and e-wallets like Skrill and Neteller. Using e-wallets allows for the fastest processing times, usually within 1 business day. Bank wires can take 3 to 5 days to clear. There are no fees charged by AxiCorp for deposits or withdrawals. However, your payment provider may charge separate transaction fees.
Withdrawals
Withdrawals from your AxiCorp account are processed promptly within 1 to 3 business days. The exact time will depend on your selected withdrawal method. There is no fee for withdrawing funds from your account. The minimum withdrawal amount is $50 AUD.
AxiCorp aims to provide traders with a low-cost, accessible way to access global markets. Their competitive fees, low minimums, and variety of payment options help to achieve this goal. Between the low barrier to getting started and the high potential for profits, AxiCorp is an attractive choice for beginners and experienced traders alike looking to keep more money in their pockets.
Demo VS Pro Account on AxiCorp
| | | |
| --- | --- | --- |
| Aspects | Demo | Pro |
| Purpose | Practice trading with virtual funds to learn the platform and develop strategies. | Cater to experienced traders seeking advanced features, lower spreads, and premium services. |
| Funds | Virtual funds were provided for the simulation. No real money involved. | Requires a minimum deposit, and traders use real funds for trading activities. |
| Trading Conditions | Simulated market environment. No real market impact. | Access to real market conditions with tight spreads, fast execution, and potentially lower fees. |
| Features | Basic trading tools and platform features for skill development. | Enhanced features include advanced technical analysis, personalized support, and premium research tools. |
AxiCorp Customer Support
AxiCorp offers customer support 24 hours a day, 5 days a week via live chat, email, and phone. Their customer service team is knowledgeable, responsive, and ready to help you with any questions or issues.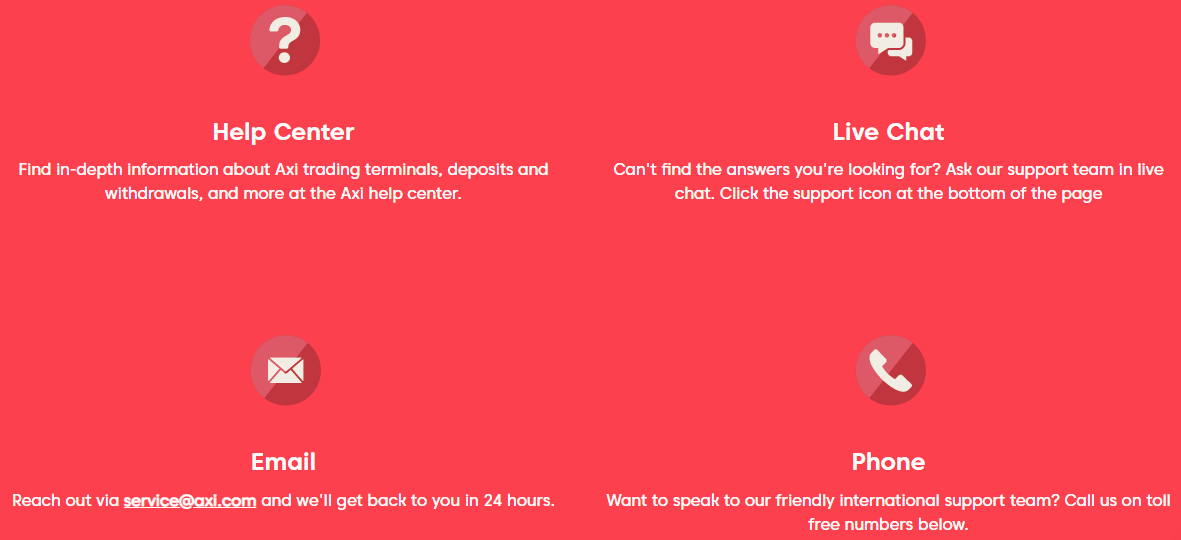 Live Chat
The live chat feature on AxiCorp's website and mobile app allows you to instantly message a support agent. Wait times are typically under a minute to connect with someone who can provide answers about account opening, funding, trading platforms, and more.
Email Support
If you have a more complex question or prefer to communicate by email, you can send a message to support@axicorp.com. AxiCorp aims to respond to all email inquiries within 1 business day. Be sure to provide as much detail as possible about your question or issue in your initial email.
Phone Support
For urgent matters, you can speak directly with an AxiCorp phone support agent by calling their toll-free number. Phone support is available 24/5 and staffed with experienced agents to walk you through solutions. Have your account information handy when you call.
AxiCorp's customer service is available in several languages besides English, including Spanish, French, Chinese, and German. No matter how you choose to contact them, you can expect to receive prompt, thoughtful support to resolve any questions or concerns. Their well-trained, multilingual staff provides the type of caring experience you want from a trusted financial services provider.
Is AxiCorp Legal or Scam?
Is AxiCorp Legal or Scam? AxiCorp is a legitimate broker, so you can rest assured it is not a scam. Some key points:
AxiCorp is regulated by top-tier regulatory bodies like the UK's Financial Conduct Authority (FCA). To maintain these licenses, AxiCorp must follow strict rules around client funds segregation, reporting, and auditing. If AxiCorp was a scam, it would not hold these respected licenses and certifications.
It takes security seriously and uses industry-standard encryption and other security measures to protect your data and funds. Client funds are held in segregated bank accounts at reputable global banks. Two-factor authentication, risk warnings, and secure login protocols all help safeguard accounts.
Pros and Cons of AxiCorp
Pros of AxiCorp
Regulation and Security

: AxiCorp is regulated by top-tier financial authorities like the FCA, ASIC, and FSCA. Your funds and data are kept secure with bank-grade encryption and two-factor authentication.

Low Fees:

It has very competitive fees. The minimum deposit is only $5 to open an account. They don't charge any commissions on stock, ETF, or options trades. Withdrawals are free and they reimburse up to $200 in ATM fees per month.

Powerful Trading Platform:

AxiCorp's trading platform is intuitive and packed with tools for analysis. You get real-time data, charts, news feeds, and research reports to help you make informed trading decisions.
Cons of AxiCorp
Limited Product Selection

: While AxiCorp offers stocks, ETFs, options, futures, and bonds, they lack some products offered by larger brokers like mutual funds, annuities, or alternative investments.

Higher Margin Rates: If you trade on margin, AxiCorp's rates are on the higher end of the range. Margin rates are how brokers make money when trades are commission-free.
Final Thought
AxiCorp offers a robust platform with competitive fees, a wide range of tradable assets, and strong regulation and security to give you peace of mind. While no brokerage is perfect, AxiCorp seems to tick most of the important boxes for an all-around solid experience.
The choice is ultimately up to you and what you value most in a broker. But if you do decide to give AxiCorp a try, you can do so knowing you've got all the key info to set you up for success.