IG Group has been around since 1974 and is one of the biggest brokers in the world, with over 195,000 clients worldwide. They offer trading on over 15,000 markets across shares, forex, indices, commodities, options, and more.
Whether you're a beginner looking to dip your toe in the trading waters or an experienced trader wanting to access major global markets, IG Group has everything for you.
Overview of IG Group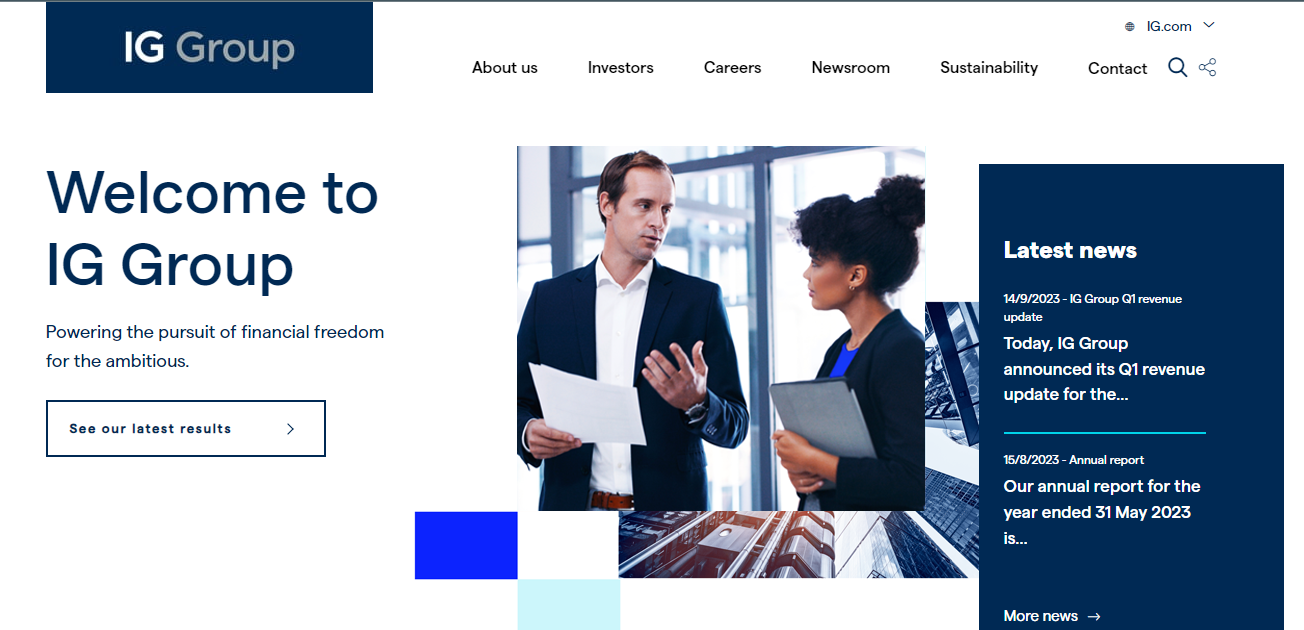 IG Group is a leading global financial services provider specializing in online trading and investments. Established in 1974, the company offers a wide range of assets including forex, stocks, indices, commodities, cryptocurrencies, and more.
It is renowned for its transparent pricing, reliable trade execution, and risk management features such as stop-loss and take-profit orders. With a strong emphasis on innovation, IG Group continues to evolve its services, catering to both beginners and experienced traders seeking diversified investment opportunities in the dynamic world of financial markets.
Regulation & Security of IG Group
When it comes to regulation and security, IG Group checks all the boxes. As an FCA-regulated broker, IG has to adhere to strict rules around client money and data protection. Your funds and information are kept separate from IG's own accounts, and your money is protected by the FSCS up to £85,000.

IG Group uses industry-standard encryption technology and security protocols to keep your data and transactions secure. Things like two-factor authentication, data encryption, and a dedicated cybersecurity team help minimize risks. You can also set alerts to notify you of key account activity.
While no system is 100% foolproof, IG Group takes regulation and security very seriously. They are constantly evaluating and improving their systems and processes to provide clients with a safe and protected trading environment. You can trade confidently knowing IG has your back.
With tight regulation and multiple security measures in place, you don't have to worry about IG Group's legitimacy or honesty. They are a trusted, global leader that puts clients first. Your money and information are in good hands with IG.
Overall, IG Group checks all the important boxes when it comes to being a legit, regulated, and secure broker. Regulation by top-tier authorities, advanced security systems, and a focus on transparency and trust mean you can trade with confidence on IG's platform.
What You Can Trade on IG Group
When you open an account with IG Group, you'll have access to trade thousands of markets, including:
Forex

– Major, minor, and exotic currency pairs. IG Group offers tight spreads and low commissions on forex trades.

Shares

– Over 17,000 global shares including major US, UK, European and Asian stocks. Whether you want to trade high-volume stocks or look for opportunities in emerging markets, IG Group has you covered.

Indices

– All major global indices as well as smaller regional indices. You can trade index prices directly or speculate on index performances with spread bets, CFDs, options, and turbo options.

Commodities

– Gold, silver, oil, natural gas, and more. Trade commodities to diversify your portfolio or hedge against inflation.

Cryptocurrencies

– Major cryptocurrencies including Bitcoin, Ethereum, and Litecoin are available to trade as CFDs.

Options

– Vanilla options, spread options, and barrier options on forex, shares, commodities, and indices. Options provide leverage and flexibility to take advantage of price movements.

Bonds

– Government bonds, corporate bonds, and bond indices from around the world. Trade bonds to access interest rate-sensitive markets.
Whether you're interested in trading FX, shares, commodities, or any other market, IG Group has plenty of opportunities. With competitive pricing, a choice of trading platforms, and helpful resources to support you, IG Group is a top broker for any active trader. Sign up for an account today and start accessing all these markets and more.
Fees of IG Group
Opening an account with IG Group is free, but there are certain fees to be aware of for trading and account activity.
Minimum Deposit:

To get started, you'll need to deposit at least $250. This initial deposit must be made via wire transfer, credit/debit card, or electronic funds transfer (EFT).

Commissions and Spreads:

IG Group charges a spread markup on each trade, ranging from 0.6 to 0.9 pips for major currency pairs. They do not charge any commissions. Spreads can vary based on market conditions.

Overnight Funding:

If you hold a position overnight, you may be subject to swap rates. These are fees charged for keeping your position open. The rates depend on the instrument and market conditions.

Withdrawals:

One free withdrawal is allowed each month. Additional withdrawals incur a $25 fee. Withdrawals are processed within 1-3 business days. You can request withdrawals via wire transfer, check, or debit card.

Payment Methods:

You can fund your account using wire transfers, credit/debit cards (Visa, Mastercard, American Express), Skrill, Neteller, or bank transfers. Deposits are instant except for wire transfers which can take 2-5 days.
IG Group aims to keep fees competitive and offers discounts for higher-volume traders. Be sure to fully understand the fee schedule before trading to avoid any surprise charges. Funding and withdrawing from your account is straightforward, with most options being free or low-cost and processed quickly.
Overall, the fees and banking with IG Group are in line with industry standards. As with any broker, be aware of all costs before putting your money at risk in the markets. But you can trade comfortably knowing IG Group is a reputable brokerage.
Demo VS Pro Account on IG Group
| | | |
| --- | --- | --- |
| Aspects | Demo | Pro |
| Purpose | Primarily for practice and learning. | Geared towards experienced and active traders. |
| Features | Limited trading instruments and assets. | Full access to a wide range of markets. |
| Risk Management | Virtual funds are used; no real money is risked. | Real money trading with advanced risk tools. |
| Market Spreads  | Simulated spreads for practice. | Competitive and potentially lower spreads. |
IG Group Customer Support
IG Group provides customer support through a few channels to help you with any questions you may have.
Phone Support
You can reach IG Group's phone support 24 hours a day, 5 days a week. Their phone numbers are:
+44 (0)20 7896 0011 (UK)
+61 (0)2 8249 8468 (Australia)
+65 6390 5132 (Singapore)
+1 877 424 4331 (US)
IG Group aims to answer 80% of calls within 20 seconds. Be prepared to provide your account number and some security details to access support.
Live Chat
For quick questions, you can use IG Group's live chat feature on their website. Live chat is available 24 hours a day, 5 days a week. You will need to provide some account details to access your account through chat. Response times are usually within 30 to 60 seconds.
Email Support
You can also contact IG Group's support team via email at helpdesk@iggroup.com. Email support is available 24 hours a day, 5 days a week. IG Group aims to respond to all emails within 4 to 6 hours. Be sure to include your account number, contact details, and specific questions in your email.
Is IG Group Legit or Scam?
With the rise of online brokerages, many people are questioning whether platforms like IG Group are legitimate or scams. IG Group is a reputable online broker that has been operating since 1974. They are regulated and authorized by top-tier regulators like the FCA in the UK.
IG Group is regulated by the UK's Financial Conduct Authority (FCA), as well as regulators in other countries like Australia, Singapore, and South Africa.
Client funds are kept in segregated bank accounts for security. IG Group is also a member of the FSCS, which protects client funds up to £85,000 in the event IG Group becomes insolvent.
Pros and Cons of IG Group
Pros:
Diverse Market Access: IG Group provides access to a wide range of financial markets, including stocks, forex, commodities, indices, and cryptocurrencies, allowing traders to diversify their portfolios.
User-Friendly Platforms: The company offers user-friendly trading platforms with various features and tools suitable for both beginner and experienced traders.
Regulation and Security: IG Group is regulated by multiple financial authorities in different countries, which provides a level of trust and security for clients' funds and personal information.
Education and Research: They offer educational resources, such as webinars, articles, and trading guides, helping traders make informed decisions. Their research tools provide valuable insights into market trends.
Leverage and Margin: IG Group offers competitive leverage options, allowing traders to potentially amplify their profits. However, this comes with increased risk.
Cons:
Risk of Loss: Trading CFDs and leveraged products involves a high level of risk. Traders can lose more than their initial investment due to the nature of leveraged trading.
Complexity: The trading of CFDs and leveraged products can be complex, especially for beginners. Understanding how leverage works and managing risk requires a good grasp of financial markets.
Final Thought
IG Group offers a solid brokerage service for traders of all experience levels looking to access over 17,000 markets. While regulation and security are a top priority, their low fees, choice of platforms, and reliable customer support also make them an attractive option.
With a trusted brand that's been around since 1974, you can trade with confidence knowing your money and data are in good hands. If you're ready to start trading stocks, forex, crypto, options, and more, IG Group delivers a seamless experience to help you reach your financial goals.