So you want to start trading cryptocurrencies but don't know which exchange to use? Check out KuCoin, one of the world's most popular crypto exchanges.
KuCoin launched in 2017 and quickly became a trusted platform for buying, selling and trading digital assets. As a global exchange, KuCoin now offers over 200 coins and 400 trading pairs, with new assets added weekly.
Whether you're looking to invest in major coins like Bitcoin or hunt for the next hidden gem, KuCoin has everything for you. If you want to know more about it, then this article is for you. Keep reading this article and know everything about KuCoin.
KuCoin Cryptocurrency Exchange: An Overview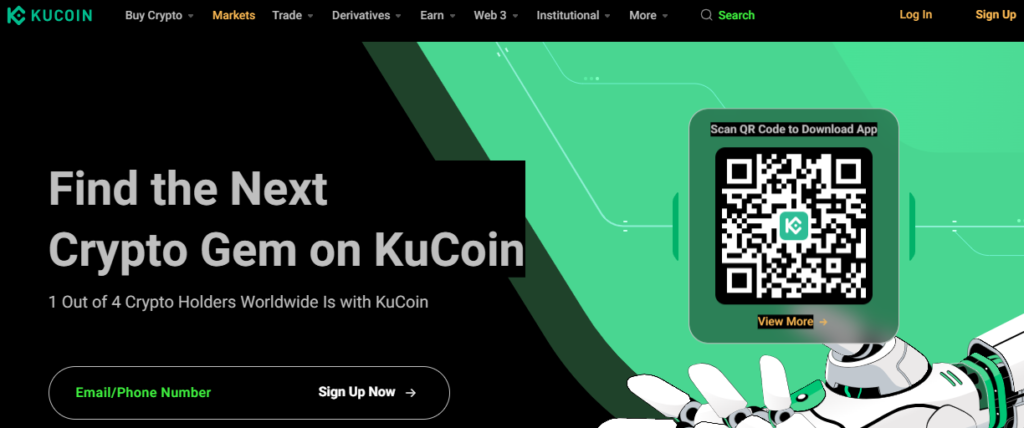 KuCoin is a prominent name in the world of cryptocurrency exchanges, offering a diverse and user-friendly platform for traders and investors.
Established in 2017, the exchange quickly gained popularity due to its extensive range of supported cryptocurrencies, making it a one-stop-shop for crypto enthusiasts. KuCoin's intuitive interface and advanced trading tools cater to both beginners and experienced traders alike.
Security is a top priority for KuCoin, with robust measures in place to safeguard user funds. The platform employs industry-leading encryption protocols and cold storage for the majority of its digital assets. Its responsive customer support team is dedicated to addressing user queries promptly.
KuCoin also stands out for its innovation, regularly introducing new features and partnerships. As it continues to evolve, KuCoin remains a reliable choice for those seeking a seamless and feature-rich cryptocurrency trading experience.
Trading on KuCoin: How It Works
Trading on KuCoin is pretty straightforward. Once you fund your account with crypto or fiat and have assets in your wallet, you're ready to start trading.
Placing an order
To place an order on KuCoin, go to the "Markets" or "Trade" page and select a trading pair like BTC/USDT. You'll see the order book on the left, the price chart in the middle, and the order form on the right.
Choose between a limit order or market order. A limit order lets you set a target price, while a market order will fill at the best available price. Enter the amount you want to buy or sell. Double check all the details, review the fees, and then click "Buy" or "Sell" to place your order.
Your order will now show up in the order book until it's filled. You can cancel an open order at any time if you change your mind. Once filled, your trade details will appear under "Order History" so you can review it.
Advanced tools
For more advanced traders, KuCoin offers tools like stop-loss and take-profit orders to help you manage risk. You can also try margin trading on select pairs, which allows you to borrow money from KuCoin to trade crypto assets. Be very careful though, as margin trading amplifies your gains and losses.
KuCoin is a solid, reputable exchange for casual and advanced crypto traders alike. With low fees, a wide range of coins, and an easy-to-use interface, KuCoin has a lot to offer. If you do your own research, start small, and be careful, you'll be trading with confidence in no time.
KuCoin Fees and Limits: What You Need to Know
KuCoin charges low trading fees and offers discounts for high-volume traders. They follow the common maker-taker fee model with fees ranging from 0.1% to 0.025% per trade.
Trading Fees
KuCoin uses a maker-taker fee schedule with volume incentives:
Maker fees: 0.1% (paid by the trader who places a limit order)

Taker fees: 0.1% (paid by the trader who places a market order)
As your monthly trading volume increases, your fees decrease. The levels are:
Level 1: < 10 BTC monthly volume – 0.1% maker/taker

Level 2: ≥ 10 BTC monthly volume – 0.09% maker/taker

Level 3: ≥ 50 BTC monthly volume – 0.08% maker/taker

Level 4: ≥ 100 BTC monthly volume – 0.07% maker/taker

Level 5: ≥ 500 BTC monthly volume – 0.06% maker/taker

Level 6: ≥ 1000 BTC monthly volume – 0.05% maker/taker

Level 7: ≥ 2000 BTC monthly volume – 0.04% maker/taker

Level 8: ≥ 5000 BTC monthly volume – 0.03% maker/taker

Level 9: ≥ 10000 BTC monthly volume – 0.025% maker/taker
KuCoin does not charge any deposit or withdrawal fees. However transaction fees may apply for blockchain transfers. There are no limits on trading volume or balance for any verified user. Margin and futures trading are also available with low fees.
Overall, KuCoin's fees are very competitive and some of the lowest in the crypto exchange market. The tiered fee structure offers even lower rates for high volume traders. With low fees and no limits, KuCoin is an attractive platform for all types of traders.
KuCoin Security: Is It Safe?
KuCoin takes security seriously and implements industry-standard security protocols to keep your funds and information safe. As an exchange that deals with cryptocurrencies, security is paramount. KuCoin uses technologies like data encryption, 2-factor authentication, and cold storage to protect user assets and data.
Data Encryption
KuCoin encrypts all sensitive user data like passwords using AES-256 encryption. This is the same level of encryption used by major banks and financial institutions. Your data is scrambled into a code that cannot be cracked.
2-Factor Authentication
KuCoin offers two-factor authentication (2FA) using either SMS text message or Google Authenticator. 2FA adds an extra layer of security for logging in and withdrawing funds. With 2FA enabled, you'll need both your password and the code sent to your phone. This makes it much harder for hackers to access your account.
Cold Storage
The majority of user funds are held in cold storage, meaning the funds are held in secure offline wallets. Only a small percentage of funds are kept in hot wallets for daily withdrawal operations. Cold storage protects your funds from being hacked or stolen, even if the KuCoin system is compromised.
While no system is 100% foolproof, KuCoin's security features instill confidence that your digital assets and sensitive data are well-protected. As with any exchange, it's still important to take standard precautions like using a strong, unique password, enabling 2FA, and being wary of phishing emails or links.
Pros and Cons of KuCoin Cryptocurrency Exchange
KuCoin is one of the popular cryptocurrency exchanges, but like any exchange, it has its pros and cons. Let's look at some of the main benefits and drawbacks of using KuCoin.
Pros:
Low Fees

: KuCoin charges very low trading fees, and deposit and withdrawal fees compared to other major exchanges. This makes it appealing for high-volume traders and new traders alike.

Large Selection of Coins

: KuCoin offers a wide range of cryptocurrencies, over 200 coins, and over 300 trading pairs. So you have opportunities to trade mainstream coins as well as smaller cap altcoins.

24/7 Customer Support:

KuCoin provides customer support 24 hours a day, 7 days a week via online chat and ticketing system. They aim to respond quickly and address any issues.

Beginner Friendly

: The KuCoin exchange has an easy-to-use interface and is suitable for beginner traders to get started. They offer a demo trading account so you can practice before using real funds.
Cons:
Smaller Volume

: KuCoin has a much smaller daily trading volume compared to the top exchanges like Binance and Coinbase. So the liquidity may be lower for some trading pairs.

Limited Fiat Payment Options

: KuCoin only accepts cryptocurrency deposits, they do not allow fiat currency deposits like USD or EUR. You have to buy crypto elsewhere first before you can trade on KuCoin.

Not Regulated

: KuCoin is not regulated and is based offshore, some users may prefer an exchange in a regulated country. KuCoin aims to be transparent and compliant, but there is more risk.
Final Thought
While it's not as big as Binance, KuCoin offers a lot of the same features and benefits with lower fees and a more community-focused vibe. The platform is intuitive and easy to use for both beginners and experienced traders.
With over 200 coins and tokens to choose from, you'll have plenty of opportunities to find hidden gems and new opportunities to diversify your portfolio. Security and customer support are priorities for KuCoin, giving you peace of mind as you buy, trade and sell.
Why not give KuCoin a try? You've got nothing to lose and a whole new world of cryptocurrency possibilities to gain. Thank you all for reading this article.