In the world of online trading, one name has consistently stood out as a beacon of innovation, empowerment, and client-focused excellence – RoboForex. Since its inception in 2010, RoboForex has captured the imagination of traders across the globe, transforming the way we approach forex and CFD trading.
With a portfolio of cutting-edge trading platforms, a spectrum of account types to suit every aspiration, and a commitment to delivering top-tier educational resources, RoboForex has etched its mark as a trailblazer in the industry.
In this comprehensive review, we'll share everything about RoboForex. If you want to know more about this platform, then just keep reading this article.
RoboForex Trading Platforms: An in-Depth Analysis
RoboForex offers several trading platforms for traders of all experience levels.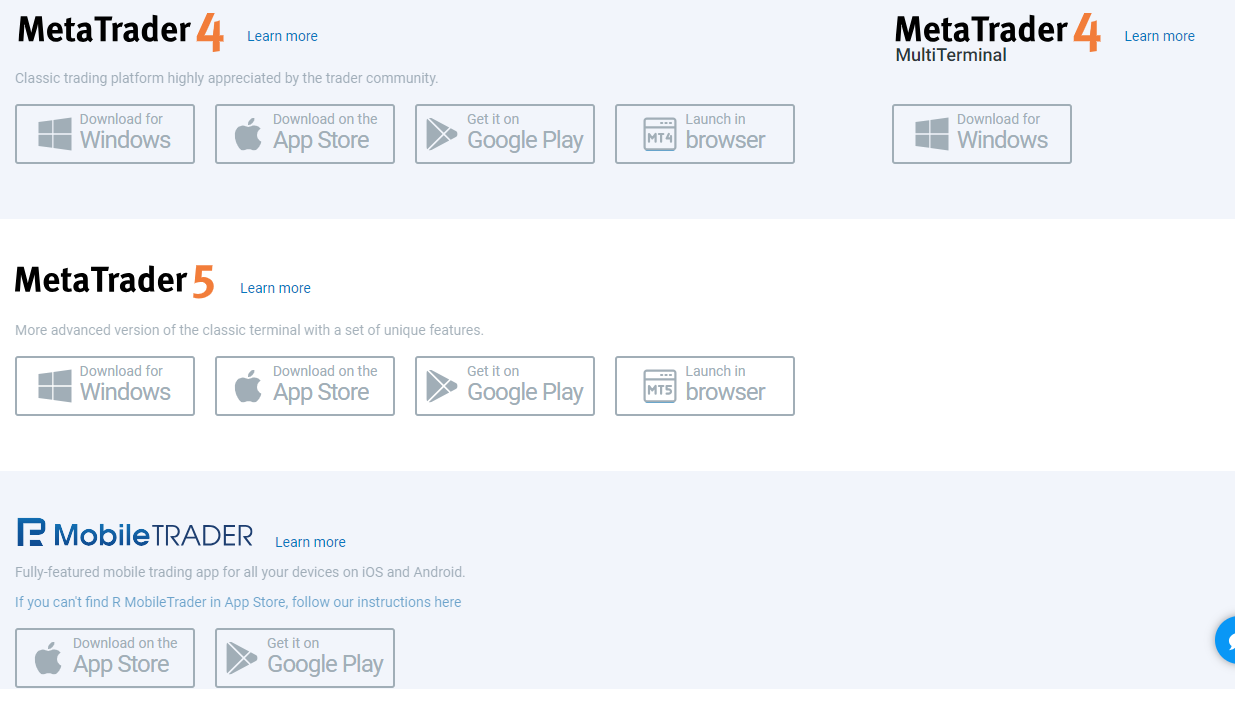 Let's break down the options:
MT4 platform
The popular MetaTrader 4 platform is a solid choice for beginner and experienced traders alike. It's user-friendly but still packed with advanced charting tools, indicators, and automated trading options. You can trade forex, CFDs, stocks, futures, and commodities. The best part? It's available as a desktop platform, web platform, and mobile apps for trading on the go.
MT5 platform
The MetaTrader 5 platform is the updated version of MT4. It offers everything MT4 does but with more advanced tools for chart analysis and trading automation. However, the range of tradeable assets is a bit more limited. Like MT4, MT5 is available as a desktop platform, web platform, and mobile app. For casual traders, either MT4 or MT5 would work great.
R Trader platform
R Trader is RoboForex's proprietary trading platform designed for professional traders. It delivers high-performance trade execution, in-depth market analysis tools, and fully customizable workspaces. The platform specializes in forex and CFD trading. R Trader does have a steeper learning curve, so it may not be ideal if you're just getting started.
RoboForex Account Types: Which One Is Right for You?
RoboForex offers several account types to suit traders of all experience levels. Let's take a look at the options so you can choose the one that's right for you.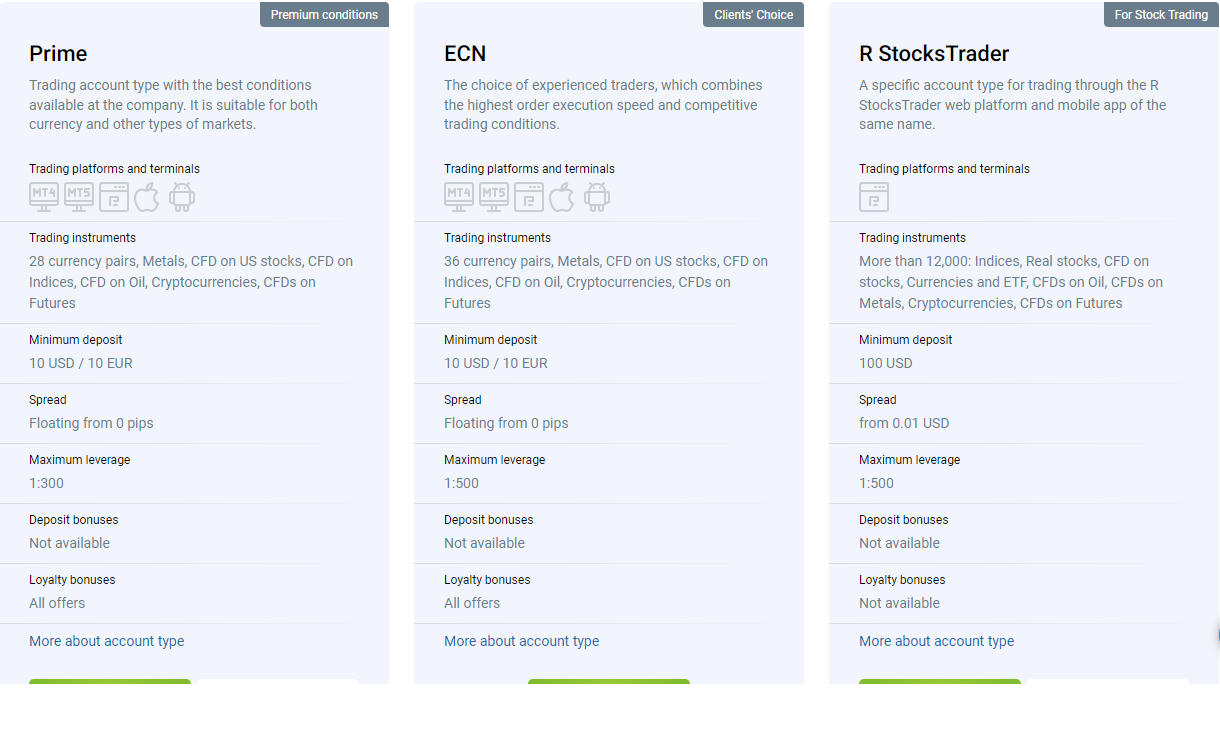 For beginners, the best choice is a Cent Account. This allows you to trade with small volumes (from 1 cent per lot) so you can learn the ropes without risking much capital. Once you get the hang of it, you can upgrade to a Standard Account which has higher volume requirements but also lower spreads.
Experienced traders will want to consider an ECN Account which provides direct access to interbank liquidity and very tight spreads. The minimum deposit is higher, but for high-volume traders, the lower costs are well worth it. An ECN Account is ideal if you want to scalp or use expert advisors.
If you're an institutional or high net-worth trader, a VIP Account offers premium service and highly customized solutions. RoboForex caters to clients of all sizes, so whether you're just getting started or handling millions of dollars in volume, they have an account to suit your needs.
The great thing about RoboForex is you can start with a Cent Account to learn the platform and work your way up as your skills and capital grow. Their state-of-the-art services and competitive pricing structures make RoboForex an excellent choice for traders of all experience levels. So take your time, evaluate the options, and choose the account that will empower you to achieve your trading goals.
Pros and Cons of RoboForex
RoboForex has its pros and cons like any other broker. Here are some of the main points to consider:
Pros:
Low minimum deposit: You only need $10 to open an account and start trading. This makes RoboForex accessible for new traders with small accounts.
Wide range of assets: RoboForex offers over 12,000 trading instruments, including forex, stocks, indices, cryptocurrencies, and commodities. There are options for every trading style.
Generous leverage: It provides high leverage up to 1:2000, allowing you to magnify your gains. Be very careful, though, as leverage also magnifies your losses.
Demo account: RoboForex offers an unlimited demo account so you can practice trading risk-free before using real money. This is perfect for new traders to learn the platform and test strategies.
Cons:
Limited regulation: RoboForex is regulated in Belize and Cyprus, but not in major regulatory hubs like the UK, US or Australia. Some traders prefer brokers with stronger regulation.
Limited products: RoboForex lacks some products offered by larger brokers like futures, bonds or options. The range of assets is quite narrow.
Final Thought
RoboForex is one of the top forex brokers that offers a combination of competitive trading conditions, a range of account types to suit every trader's needs, and reliable customer service. Whether you're a beginner just getting started or a seasoned pro, RoboForex has you covered with educational resources and advanced tools to help improve your trading performance.
With tight spreads, fast execution speeds, and access to over 50 currency pairs as well as other CFDs, RoboForex provides an all-in-one solution for forex trading. If you're looking for a broker that delivers a great trading experience at a low cost, RoboForex should be at the top of your list.