ATFX is a well-established online brokerage firm, founded in 2014, that offers access to various financial markets, including Forex, indices, commodities, and cryptocurrencies.
With a global presence, a user-friendly trading platform in MetaTrader 4, and a commitment to client education and support, ATFX is a trusted choice for traders looking to navigate the world of online trading with confidence and transparency.
Overview of ATFX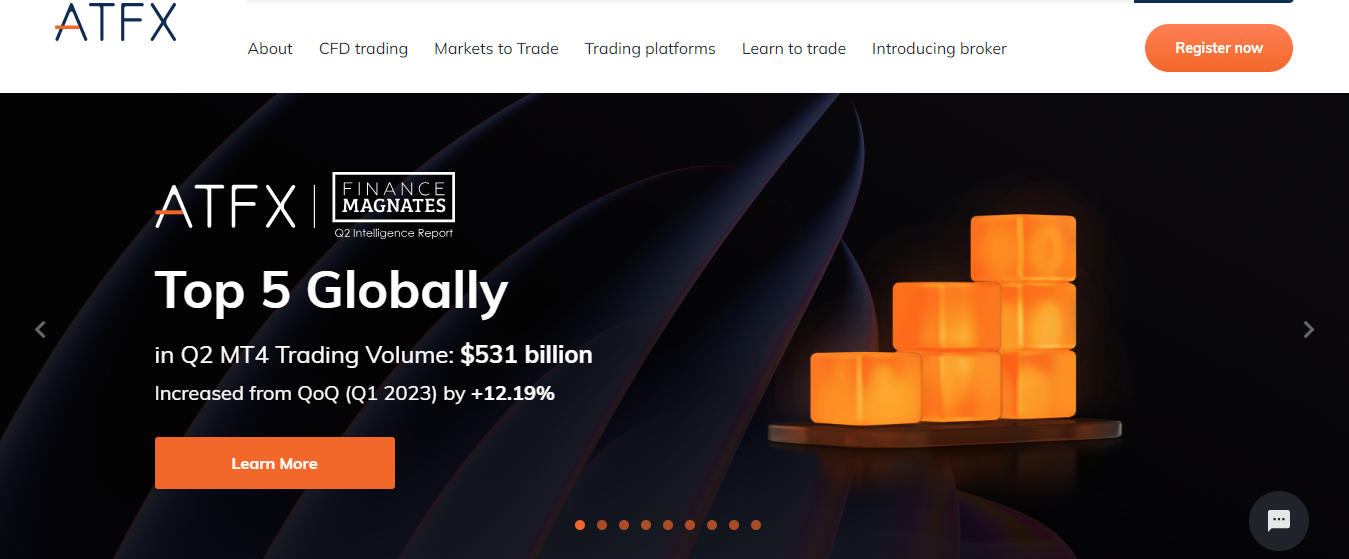 ATFX is a reputable online brokerage firm that provides access to various financial markets, including Forex, indices, commodities, and cryptocurrencies. Established in 2014, the company has garnered a global presence, with a commitment to offering a user-friendly and secure trading environment.
One of ATFX's standout features is its cutting-edge trading platform, MetaTrader 4 (MT4), renowned for its versatility and comprehensive charting tools. Traders can access a wide range of instruments and benefit from competitive spreads and leverages.
ATFX places a strong emphasis on client education, offering a wealth of educational resources, webinars, and market analysis to help traders make informed decisions. Additionally, the firm prioritizes customer support, ensuring that clients receive prompt assistance whenever needed.
Regulated by multiple financial authorities, including the Financial Conduct Authority (FCA), ATFX provides a trusted and transparent trading experience, making it a preferred choice for both novice and experienced traders seeking to participate in the global financial markets.
Regulation and Security of ATFX
When it comes to regulation and security, ATFX ticks all the boxes. As an FCA-regulated broker, ATFX keeps client funds in segregated accounts and abides by strict anti-money laundering policies.

ATFX utilizes industry-standard encryption to protect your personal data and transactions. Two-factor authentication, like Google Authenticator, adds an extra layer of security to your account. You can also enable SMS authentication to receive login codes via text.
What You Can Trade on ATFX

ATFX is a reputable online trading platform that offers a wide range of financial instruments for traders to engage with. Here's a brief overview of what you can trade on ATFX:
Forex (Foreign Exchange):

ATFX allows you to trade in the world's largest and most liquid financial market. You can buy and sell currency pairs, such as EUR/USD or GBP/JPY, to profit from changes in exchange rates.

Stocks:

Trade shares of publicly listed companies from around the world. This includes popular stocks like Apple, Amazon, and Google, among others.

Commodities:

ATFX provides access to trading in commodities like gold, silver, oil, and agricultural products. These commodities can be influenced by various economic factors.

Indices:

Trade on global stock market indices like the S&P 500, NASDAQ, or FTSE 100, which represent the performance of a group of stocks.

Cryptocurrencies:

ATFX offers cryptocurrency trading, enabling you to speculate on the price movements of digital assets like Bitcoin, Ethereum, and more.

Precious Metals:

Invest in precious metals like gold and silver, which are often considered safe-haven assets during economic uncertainties.

Energies:

Trade energy commodities, including crude oil and natural gas, which are influenced by supply and demand dynamics and geopolitical events.

Bonds:

You can also trade government and corporate bonds, providing opportunities to diversify your investment portfolio.
Fees of ATFX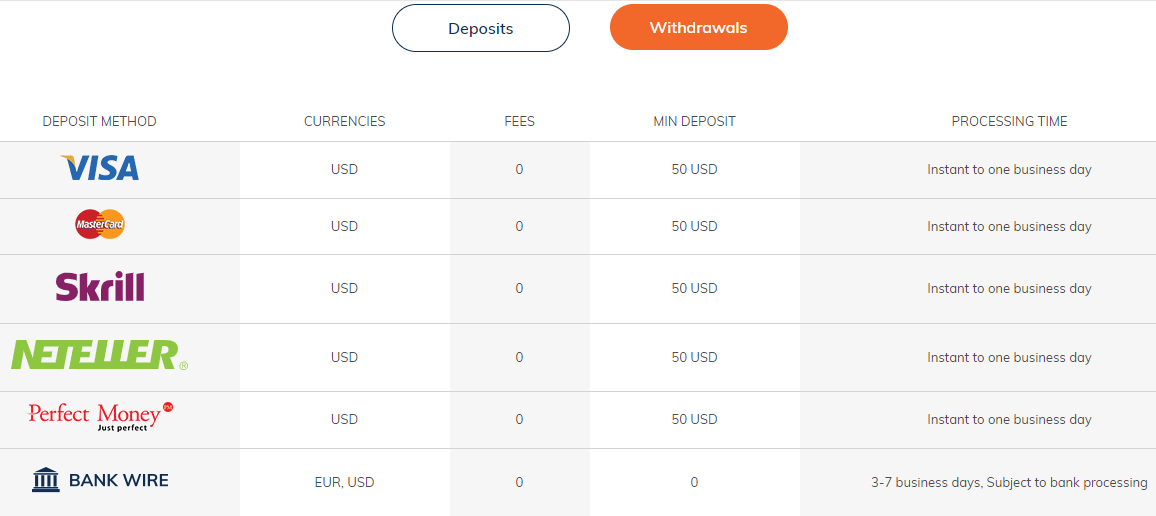 When it comes to fees, ATFX keeps things simple. To open an account, you'll need to deposit a minimum of $100. Compared to other brokers, this is on the lower end of the spectrum, making ATFX accessible for new traders.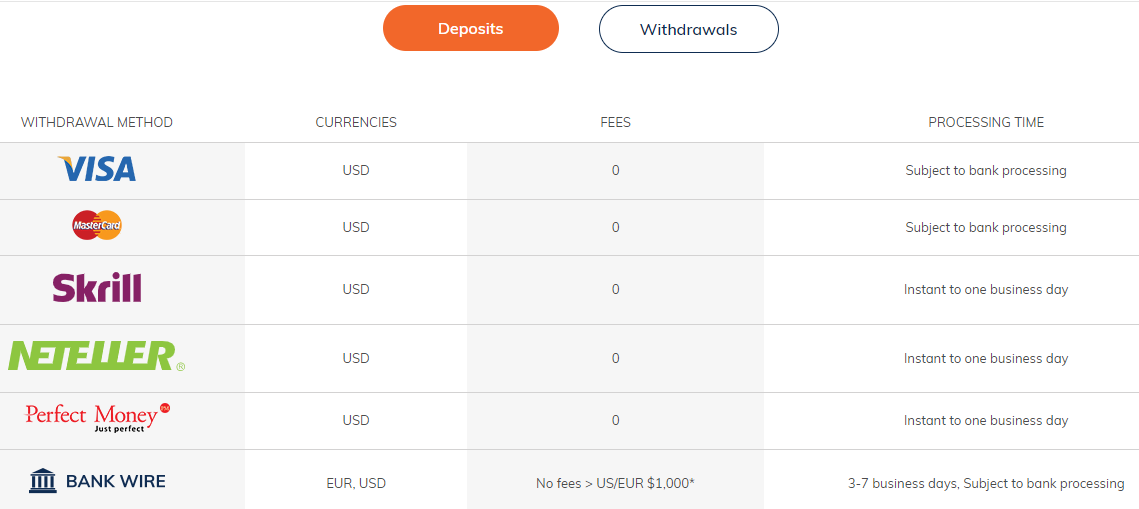 Fund your account via credit/debit card, bank wire, Skrill, or Neteller. ATFX doesn't charge any deposit fees for most methods. Withdrawals typically take 1-3 business days to process and are also free. However, bank wires incur a $25 fee.
ATFX Customer Support
ATFX's customer support is available 24/5 via live chat, email, and telephone. Their support team is knowledgeable and responsive, aiming to resolve any issues within 24 hours. However, some users report longer wait times, especially on weekends and holidays.
Alternatives to ATFX Brokers
Looking for alternatives to ATFX? Here are a couple of other reputable forex brokers to consider:
XM
XM is a well-established broker, regulated in multiple countries, including the UK and Australia. They offer over 60 currency pairs to trade with competitive spreads and no commissions. The minimum deposit is just $5 to open an account.
HotForex
HotForex is another popular forex broker choice with tight spreads and over 45 currency pairs. They are regulated by several agencies globally. HotForex requires a low minimum deposit of $5 and charges no commissions, just a small spread on each trade. They also frequently run bonus promotions for new account holders.
IC Markets
IC Markets is an award-winning ECN forex broker that provides access to over 235 currency pairs and other CFDs. They are regulated in Australia and Cyprus, offering ultra-low spreads, fast trade execution, and a $200 minimum deposit. IC Markets is a reputable alternative for forex traders.
Is ATFX Legit or a Scam?
With many dubious brokers out there looking to take advantage of unsuspecting traders, you have to be careful. The good news is, that ATFX checks out. This broker is licensed and regulated by top-tier authorities like the Australian Securities and Investments Commission (ASIC) and the UK's Financial Conduct Authority (FCA).
ATFX takes security seriously and uses advanced encryption technology to keep your data and funds safe. They also keep client funds in segregated accounts at reputable banks. With a track record of over 10 years, ATFX has proven to be a trustworthy broker for thousands of traders. While there are never any guarantees, ATFX shows all the signs of a legitimate broker and not a scam.
Pros and Cons of ATFX
The pros of ATFX include low fees, a simple and intuitive platform, and strong customer support. However, as with any broker, there are also some downsides to consider:
Pros:
Low trading and non-trading fees. ATFX has low spreads and charges no commissions.

Easy to use platform. The platform is simple to navigate and suitable for beginners.

Great customer service. ATFX provides 24/5 support via live chat, email, and phone.
Cons:
Limited products. ATFX only offers forex and CFD trading. No stocks, bonds, or crypto.

Higher spreads than some competitors. Although low, spreads are higher than some other forex brokers.
Final Thought
While regulated and generally well-liked, ATFX may charge higher fees than some competitors and has a more limited product range. However, for casual traders looking for an easy-to-use platform with good customer service, ATFX can be a great choice.
At the end of the day, you have to weigh the pros and cons for your own needs. But with their simple account opening, low minimum deposit, and free demo account, at least you can give ATFX a try risk-free. Hopefully, this review gave you all the details to make an informed decision.