Before you start buying and trading crypto, you need a secure and reputable exchange to make your transactions on. Let us introduce you to BitFlyer.
It is one of the largest cryptocurrency exchanges in the world. BitFlyer launched in 2014 and has since become a leader in the crypto space. They offer some of the lowest fees around and the highest security standards to keep your digital assets safe.
Whether you're a crypto newbie looking to buy your first bitcoin or an experienced trader wanting access to altcoins and margin trading, BitFlyer has everything for you.
In this review, we'll go through everything you need to know about BitFlyer so you can decide if it's the right crypto exchange for you. So, let's dig into this article.
An Overview of BitFlyer Cryptocurrency Exchange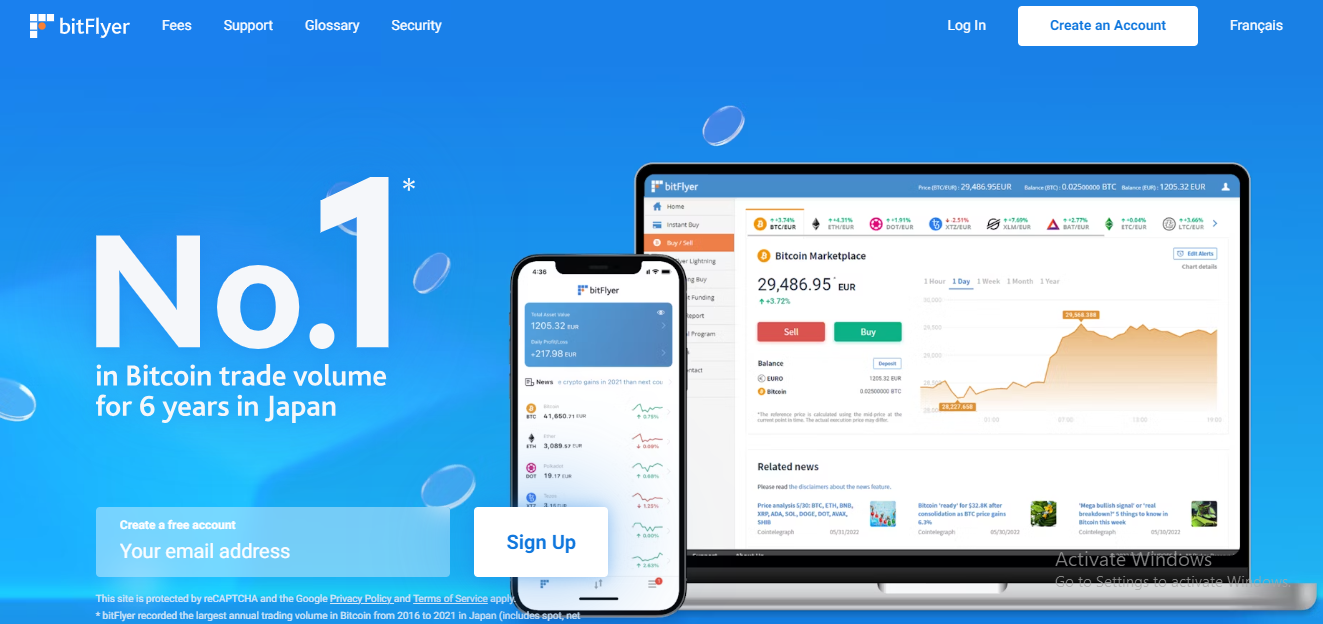 BitFlyer is one of the largest cryptocurrency exchanges in the world. Founded in 2014, BitFlyer has headquarters in Japan and offices in Europe and the US. They provide a safe, simple, and licensed platform to buy, sell, and trade cryptocurrencies.
BitFlyer offers some of the lowest fees of any major exchange. They charge just 0.15% for maker fees and 0.25% for taker fees. If you trade a high volume, you can get discounts that lower fees to as little as 0.075%.
The exchange supports many of the most popular cryptocurrencies, including:
Bitcoin (BTC)

Ethereum (ETH)

Bitcoin Cash (BCH)

Litecoin (LTC)

Monacoin (MONA)
One of BitFlyer's biggest advantages is licensing and security. They are fully regulated in Japan, the US and Europe. All funds are held in an isolated cold wallet, and BitFlyer uses multi-signature technology and 2-factor authentication to keep accounts secure.
BitFlyer offers simple ways to deposit and withdraw funds. You can use wire transfers, credit/debit cards, and select cryptocurrencies. Most deposits are credited within 24 hours. The exchange has a straightforward interface, making it easy to place market, limit, and stop-loss orders.
Whether you're a beginner or an experienced trader, BitFlyer has a lot to offer. With competitive fees, a range of coins, solid security and licensing, and an intuitive platform, BitFlyer stands out as a safe, low-cost choice for cryptocurrency trading.
Trading on BitFlyer: Fees, Available Cryptocurrencies and Order Types
Trading on BitFlyer is straightforward once you fund your account. Let's go over the basics so you can start buying and selling crypto right away.
Fees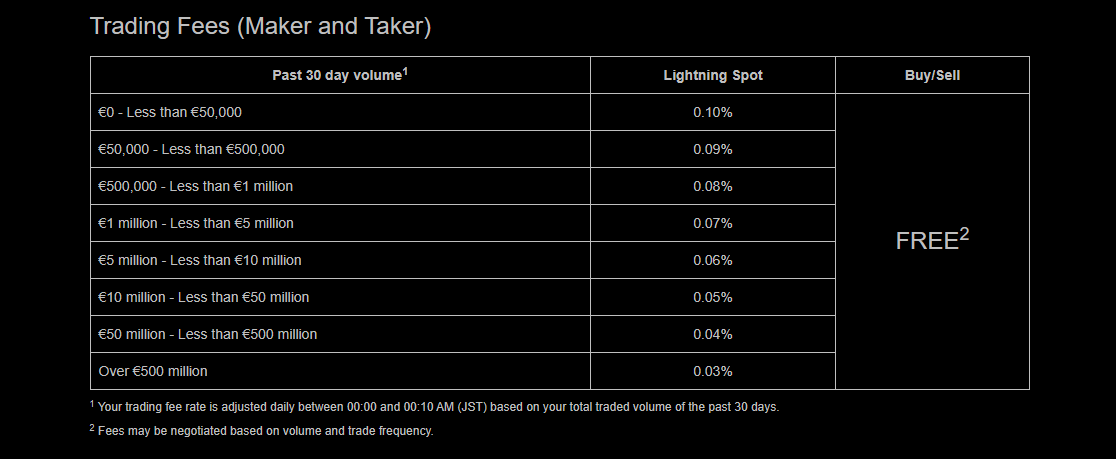 BitFlyer charges some of the lowest fees around. Market orders (instant buys/sells) are only 0.1%, while limit orders (buys/sells at a target price) are free. Withdrawal fees vary depending on the coin but are generally reasonable. There are no deposit fees for USD, EUR, or JPY.
Available Cryptocurrencies
BitFlyer currently supports Bitcoin (BTC), Ethereum (ETH), Litecoin (LTC), Bitcoin Cash (BCH), and Ethereum Classic (ETC). More digital assets may be added in the future based on customer demand.

Order Types
You can place market orders, limit orders, and stop loss orders on BitFlyer. Market orders allow you to buy or sell at the current market price. Limit orders let you set a target price to buy or sell at. Stop loss orders automatically sell if the price drops to a level you specify, helping minimize losses.
With some of the lowest fees around, a simple interface, and support for major cryptocurrencies, BitFlyer is an excellent exchange for new and experienced traders alike. Fund your account, learn the ropes, and start trading today. The opportunities in the crypto markets are endless!
BitFlyer Fees: Are They Competitive?
When it comes to fees, BitFlyer aims to keep them low and transparent. Their trading fees are a flat 0.1% of the total transaction amount for all supported cryptocurrencies. This means if you buy or sell $100 of Bitcoin, the fee would be 10 cents. While not the absolute lowest, these fees are still very competitive compared to most major exchanges.
BitFlyer does not charge any fees for deposits or withdrawals in Bitcoin, Ethereum, Bitcoin Cash, or Litecoin. However, they do charge network fees for sending crypto out of their exchange, which are the standard fees required to transact on each blockchain.
They are very upfront about these network fees on their website. Fiat currency (USD, EUR, JPY) deposits and withdrawals also have no fees for most traditional payment methods like bank transfers.
Where BitFlyer really shines is their low margin rates for futures trading. They only charge 0.02% for Bitcoin margin trades, compared to 0.1% on spot trades. If you want to do leveraged trading, BitFlyer has some of the lowest rates around. They do charge overnight financing fees for keeping positions open, but again these are lower than average at just 0.01% of the position size.
BitFlyer's fees are very competitive for the major features they offer. Spot trading, margin trading, and fiat transfers are all lower than average compared to other top crypto exchanges.  The only downside is they don't offer any trading fee discounts or rebates for high-volume traders. But for the average buy-and-hold investor or casual trader, BitFlyer's fees are hard to beat.
Is BitFlyer Safe and Legit?
Is BitFlyer safe and legit? This is an important question for anyone looking to trade cryptocurrency. After all, you want an exchange you can trust with your money and personal information.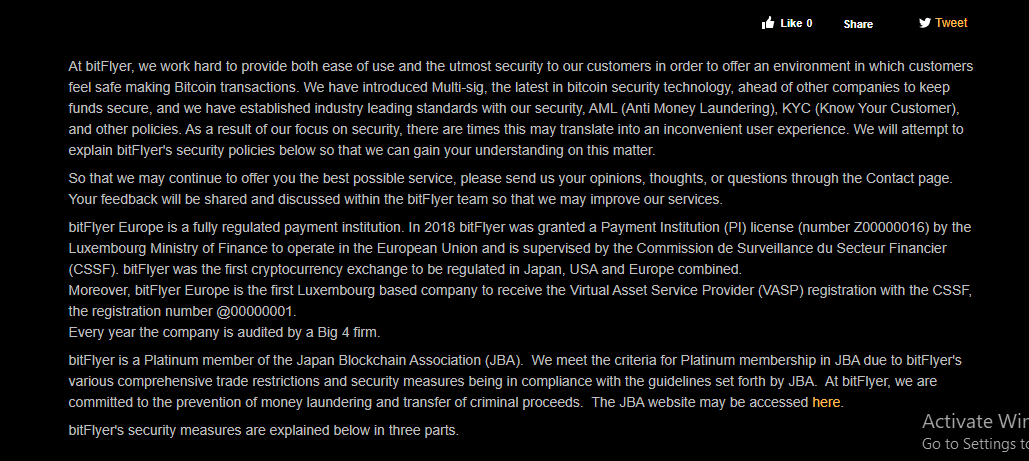 The good news is, that BitFlyer is very safe and reputable. Here are a few reasons why:
Regulated and Compliant
BitFlyer is licensed and regulated in Japan, the U.S., and the E.U. It follows all laws and regulations in the places it operates. BitFlyer is also not anonymous—it requires ID verification to trade, which helps prevent fraud and money laundering.
Secure Platform
BitFlyer uses industry-standard security measures to protect customer accounts and information. Things as cold storage for most digital assets, two-factor authentication, SSL encryption, and more. BitFlyer has never been hacked, and they take security very seriously.
Backed by Major Investors
Big companies like Mitsubishi UFJ Financial Group, Mizuho Financial Group, Sumitomo Mitsui Financial Group, Daiwa Securities Group, and Venture Labo Investment have invested in BitFlyer. This shows major institutions trust them and believe in their business.
Responsive Customer Support
BitFlyer provides 24/7 customer support across multiple channels like chat, phone, and email. They aim to resolve any issues quickly and keep their customers happy.

BitFlyer may not have the lowest fees or widest selection of coins, but safety, security, and trust are most important for an exchange. It delivers on all these fronts and is a reputable place for newcomers and experienced traders alike. Overall, you can feel confident using BitFlyer to buy and sell cryptocurrency.
Pros and Cons of BitFlyer
BitFlyer is one of the largest cryptocurrency exchanges in the world. Based in Japan, BitFlyer allows you to buy and sell major cryptocurrencies like Bitcoin, Ethereum, and Litecoin. As with any exchange, there are some pros and cons to consider before using BitFlyer.
Pros
Easy to use interface. BitFlyer's website and mobile app are simple to navigate for newcomers. You can buy and sell crypto quickly.

High liquidity. BitFlyer has a high trading volume which means fast transaction times and stable prices. You can execute large buy and sell orders without major price impacts.

Secure platform. BitFlyer uses industry-standard security protocols to keep funds and information safe. They have strong anti-money laundering policies and segregate customer funds from operational funds.

Low fees. BitFlyer charges some of the lowest fees of any major exchange. Trading fees start at just 0.1% per transaction. Deposits and withdrawals are also free for most payment methods.
Cons
Limited selection. BitFlyer only supports Bitcoin, Ethereum, Litecoin, Bitcoin Cash, and Ethereum Classic. If you want to trade less popular altcoins, you'll need to use another exchange.

Not available worldwide. BitFlyer is not available to users in the United States and some other countries. They are working to expand into more markets, but for now, the platform is limited.

Prone to volatility. As with any cryptocurrency exchange, the value of your assets can go down as well as up. Cryptocurrency markets are volatile, so only invest money that you can afford to lose.
Final Thought
BitFlyer is a reputable and reliable exchange that has been operating in Japan since 2014 and more recently expanded into the US and Europe.
With low fees, a simple interface, and strong security, BitFlyer makes it easy to buy and sell major cryptocurrencies like Bitcoin, Ethereum, and Litecoin.
While the exchange currently only offers the most popular coins, their selection is growing over time to meet customer demand. The ability to link a US bank account and buy crypto with USD is a big plus for American traders.
And for those outside the US, BitFlyer's support for EUR and JPY means you have options to fund your account in your local currency.