Gemini was founded in 2014 by the famous Winklevoss twins, who were early investors in Bitcoin. If the name sounds familiar, that's because they were portrayed in the movie The Social Network.
But forget the drama, the Winklevoss twins know their crypto and built Gemini to be a trusted and regulated exchange to buy and sell digital assets.
In this review, we'll cover everything you need to know about Gemini so you can decide if it's the right crypto exchange for you. So, let's dig into this article.
What Is Gemini Cryptocurrency Exchange?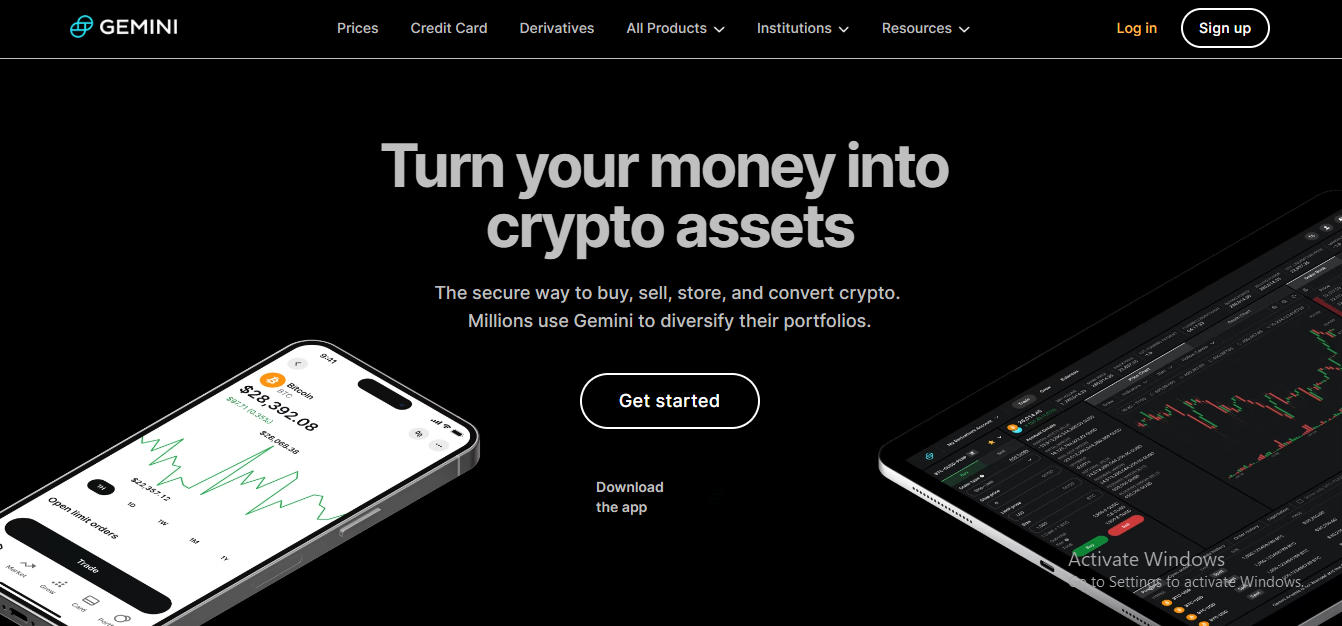 Gemini is a popular cryptocurrency exchange based in New York. Founded in 2014 by Cameron and Tyler Winklevoss, Gemini allows you to buy and trade over 30 different cryptocurrencies.
To get started, you'll need to create an account and verify your identity. Gemini complies with financial regulations, so they follow standard KYC (Know Your Customer) procedures. Once verified, you can connect a bank account or debit/credit card to easily fund your account.
Gemini's simple yet robust trading platform makes it easy to buy and sell crypto. You'll see familiar options like market orders, limit orders, and stop loss orders. Gemini's low fees range from 0.35% to 1% per trade, depending on your 30-day trading volume.
Security is Gemini's top priority. They store the vast majority of digital assets in offline, air-gapped cold storage wallets. Two-factor authentication and address whitelisting help protect accounts. Gemini is also SOC 2 Type 1 and Type 2 compliant, meaning it meets the highest security standards.
In addition to the exchange, Gemini offers a mobile app to manage your account and portfolios on the go. They also have an OTC trading desk for high-volume traders and a custody service for securing large crypto holdings.
Overall, Gemini is a trusted, regulated crypto exchange ideal for both beginner and advanced traders in the U.S. and certain other countries. With robust security, competitive fees, and an easy-to-use platform, Gemini makes buying and selling digital assets simple and safe.
Available Cryptocurrencies on Gemini
Gemini offers a decent selection of cryptocurrencies for trading on their exchange.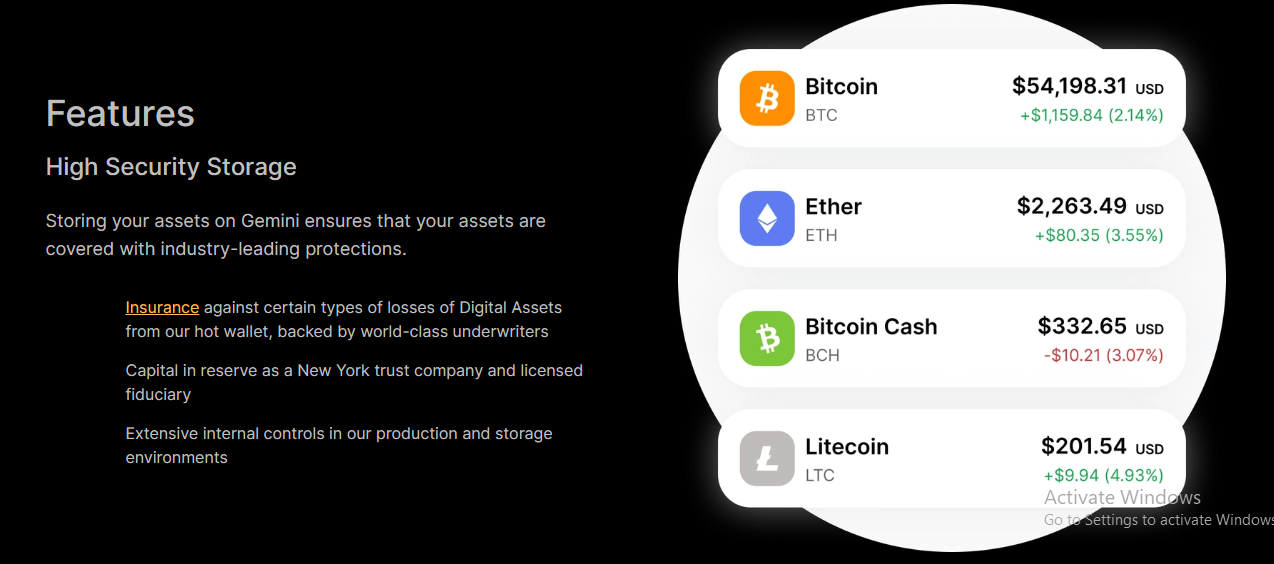 As of 2021, the available coins on Gemini include:
Bitcoin (BTC): The original cryptocurrency and still the most popular. Gemini was actually founded by the Winklevoss twins, who were early Bitcoin investors.

Ethereum (ETH): The second largest crypto by market cap and the main platform for decentralized apps and initial coin offerings.

Litecoin (LTC): A popular alternative coin for cheap and fast payments. Litecoin is considered the "silver to Bitcoin's gold."

Bitcoin Cash (BCH): A hard fork of Bitcoin focused on on-chain scaling. Bitcoin Cash has lower fees and faster transactions than Bitcoin.

Zcash (ZEC): A privacy-focused coin that hides details of transactions. Zcash uses zero-knowledge proofs to provide anonymity for users.

Filecoin (FIL): A decentralized storage network and token. Filecoin lets users rent out unused storage space and get paid in FIL.

Dai (DAI): A stablecoin pegged to the U.S. dollar. Dai is issued by MakerDAO and aims to maintain a 1:1 value with USD.

Basic Attention Token (BAT): The utility token for the Brave browser. BAT is earned by viewing ads and content on Brave and can be used to support content creators.

0x (ZRX): The governance token for the 0x decentralized exchange protocol. 0x allows for peer-to-peer exchange of ERC-20 tokens on the Ethereum blockchain.

Gemini Dollar (GUSD): Gemini's own regulated stablecoin. GUSD is issued by Gemini Trust Company and audited monthly to ensure 1:1 backing with U.S. dollars.
So, whatever your interest in crypto may be, Gemini likely has you covered with a good range of both major cryptocurrencies and special-use tokens.
The selection may not be as wide as some other exchanges, but for most casual and beginner crypto users, Gemini offers all the big names you'd want access to.
Gemini Fees: Are They Competitive?
Gemini is a popular U.S.-based cryptocurrency exchange, but how do their fees stack up? For the average trader, Gemini's fees are generally comparable to other major exchanges. However, for high-volume traders, Gemini offers a competitive fee schedule that could save you money.
Trading Fees
Gemini charges 0.35% as a convenience fee for traders buying or selling crypto on their exchange. This means if you buy $100 worth of Bitcoin, you'll pay $0.35 in fees. While not the absolute lowest, this is pretty standard. The fees are a bit higher than Binance.US and Coinbase Pro, but lower than brokers like Robinhood.
For larger traders, Gemini offers a discount. If you trade over $50 million in volume over 30 days, your fees drop to 0.1%. Over $500 million and fees fall to just 0.07%. These heavily discounted rates are some of the lowest around and ideal for institutional investors or high-frequency trading.
Deposit & Withdrawal Fees
Gemini allows free ACH bank transfers, wire transfers, and crypto deposits. That means you can deposit USD or crypto into your account without any fees. Withdrawals are also free, though they do have some limits. You can withdraw up to $500,000 per day via bank transfer, but only $100,000 per day via crypto. While the limits may be inconvenient for large withdrawals, the fees are certainly competitive.
Overall, Gemini's fees are quite reasonable for the average trader. And if you're trading high volumes, their discounted rates are very compelling. Low fees, free deposits, and withdrawals, and no hidden charges—that combination is tough to beat! If keeping fees to a minimum is a priority, Gemini should be on your shortlist of exchanges to consider.
Is it Safe to Use Gemini Cryptocurrency Exchange?

When it comes to cryptocurrency exchanges, security is a top priority. You want to make sure your funds and personal information are safe. As one of the first regulated cryptocurrency exchanges in the U.S., Gemini prioritizes security and compliance. But is Gemini really safe to use? Here are some factors to consider:
Regulation and Compliance
Gemini is regulated by the New York State Department of Financial Services (NYDFS) and follows strict rules to protect customer information. They regularly undergo audits to ensure compliance with regulations. It is also SOC 2 Type 1 compliant, meaning they have controls and safeguards in place to securely manage customer data.
Security Measures
Gemini uses offline cold storage for the majority of digital assets, which means your funds are kept in a wallet not connected to the internet. They also utilize two-factor authentication and withdrawal address whitelisting for account security. Gemini's website and mobile apps use bank-level SSL encryption to keep information private.
Insurance Coverage
Gemini maintains commercial crime insurance in the event of theft or hacking. They also recently obtained insurance coverage for digital assets held in hot wallets. This insurance covers any losses from theft, hacking, and employee theft up to a certain limit.
While no exchange is 100% foolproof, Gemini's focus on regulation, security, and insurance coverage provides peace of mind for users. If safety and compliance are top priorities for you in a crypto exchange, Gemini is an excellent choice. They aim to build trust through transparency and by putting customers first.
Gemini Cryptocurrency Exchange: Pros and Cons
The Gemini cryptocurrency exchange has a lot going for it, but also some downsides to be aware of. Here are some of the main pros and cons to consider before using Gemini.
Pros
Trusted and regulated:

Gemini is licensed and regulated in New York, giving it more oversight and accountability than some other exchanges. Your funds and personal information will be safer here.

Beginner-friendly:

Gemini's simple interface and limited number of tradable cryptocurrencies make it easy for newcomers to get started with crypto trading.

Bank connections:

Gemini allows you to connect your bank account to deposit and withdraw USD, as well as buy and sell crypto. This convenient integration eliminates excessive money transfers between your bank and exchange accounts.

High trading volume:

Gemini facilitates a high volume of trades each day, so you'll have no trouble buying and selling crypto quickly at fair market prices.
Cons
Limited coins:

Gemini only supports a handful of the most popular cryptocurrencies. If you want to trade more obscure altcoins, you'll need to use a different exchange.

No margin trading:

Gemini does not currently offer margin, futures, or other advanced trading options. Your trading will be limited to basic spot buying and selling of crypto.
Final Thought
Gemini is a secure and compliant option for buying and selling crypto in the U.S. The straightforward interface, educational resources, and strong security practices make it appealing for new traders.
At the end of the day, you have to weigh the pros and cons of your needs and trading style. If you're just getting started in crypto or value security and compliance over a wide range of listings, Gemini is worth checking out.
But if you're an experienced trader used to more robust exchanges, you may find their offering lacking. Thank you all for reading this article.