Bitstamp has been around since 2011. This makes it one of the oldest and most trusted exchanges.
It's fully licensed and regulated to operate in the EU. This means your funds and information will be much safer than with some fly-by-night exchange. Bitstamp offers a simple and intuitive platform for both beginners and advanced traders.
You'll have access to Bitcoin, Ethereum, Litecoin, Bitcoin Cash, and Ripple for trading against USD or EUR. Fees are reasonable and they have 24/7 customer support if you get stuck.
Ready to get started with it? Keep reading to learn everything you need to know about the Bitstamp cryptocurrency exchange so you can start trading with confidence.
Supported Cryptocurrencies on Bitstamp
Bitstamp supports some of the most popular cryptocurrencies. You'll find all the major players here, like:
Bitcoin (BTC): The OG crypto. Bitstamp was actually one of the first exchanges to offer BTC trading.

Ethereum (ETH): The second largest crypto by market cap. If you're into decentralized apps and altcoins, ETH is a must-have.

Litecoin (LTC): A popular altcoin known as the "silver to Bitcoin's gold." Cheaper and faster than BTC.

Bitcoin Cash (BCH): A Bitcoin fork focused on lower fees and faster transactions.

Ripple (XRP): A crypto aimed at banks and payment networks. XRP is one of the most controversial currencies.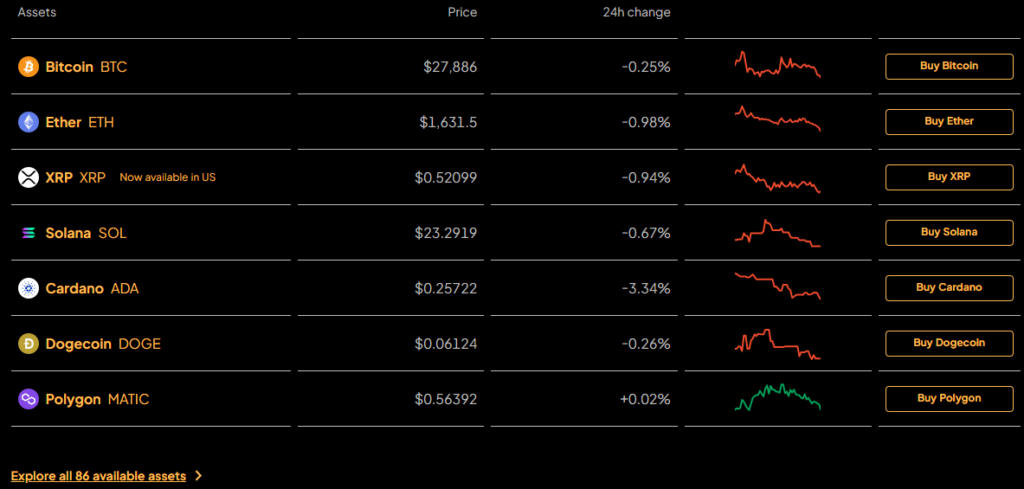 Bitstamp used to offer a lot more coins but scaled back to focus on the most prominent and stable currencies. While the selection is more limited now, the benefit is a simpler, less cluttered trading experience. Fewer obscure altcoins also mean less volatility and risk for investors.
Trading fees for all coins are very competitive at just 0.25% per transaction. Deposits and withdrawals are also free, though your bank may charge a small fee. Bitstamp doesn't have the lowest fees around but they're very reasonable for the level of security and service you get.
Overall, Bitstamp should have the major coins any crypto investor wants. If you're just getting started, the straightforward interface and limited selection make it easy to build confidence.
More advanced traders may find the options lacking but can always move to a larger exchange when ready. For most though, Bitstamp hits the sweet spot with a balance of quality over quantity.
Trading Fees on Bitstamp
When it comes to trading on Bitstamp, there are a few fees you'll want to be aware of. The good news is, Bitstamp's fees are very reasonable compared to other crypto exchanges.
For all crypto trading pairs (e.g. BTC/USD or ETH/BTC), Bitstamp charges a flat trading fee of 0.50% of the total transaction amount. This means if you buy $1,000 of Bitcoin, you'll pay a $5 trading fee. If you sell $2,000 of Ethereum, you'll pay a $10 trading fee. While the fees are the same for all users, you can get lower rates if you trade higher volumes.
Deposits made in EUR SEPA transfers, USD wires, GBP, JPY, and crypto are all free. However, international USD and GBP wires do have a small fee. It's always best to check Bitstamp's fee schedule for the latest deposit and withdrawal fees. When withdrawing funds from Bitstamp, there are also small fees to be aware of. SEPA EUR withdrawals and crypto withdrawals are free.
USD and GBP withdrawals incur a flat fee while international USD and GBP wires also have additional banking fees. Again, check Bitstamp's fee page for the most up-to-date withdrawal fees. The low trading fees, free EUR and crypto transactions, and competitive withdrawal fees are a big reason why Bitstamp remains a popular crypto exchange. While the fees are higher than truly free exchanges like Robinhood, the trade-off is that Bitstamp offers access to more coins and trading pairs.
Overall, Bitstamp's fees are very reasonable and in line with the industry average. The exchange is transparent about all their fees on the Bitstamp fees page. As with any exchange, it pays to understand the fee structure before you start trading.
Is Bitstamp Safe and Legit?
Bitstamp is one of the oldest and most reputable crypto exchanges, founded in 2011. But is it safe and legit? Let's look at some factors that determine an exchange's trustworthiness.
Regulation
Bitstamp is fully regulated and licensed. It holds a BitLicense from the New York State Department of Financial Services, which has very strict requirements.
It is also registered as a virtual currency exchange with FinCEN, a bureau of the U.S. Treasury Department. Being regulated means Bitstamp has to follow strict rules around security, reporting, and protecting customer funds.
Security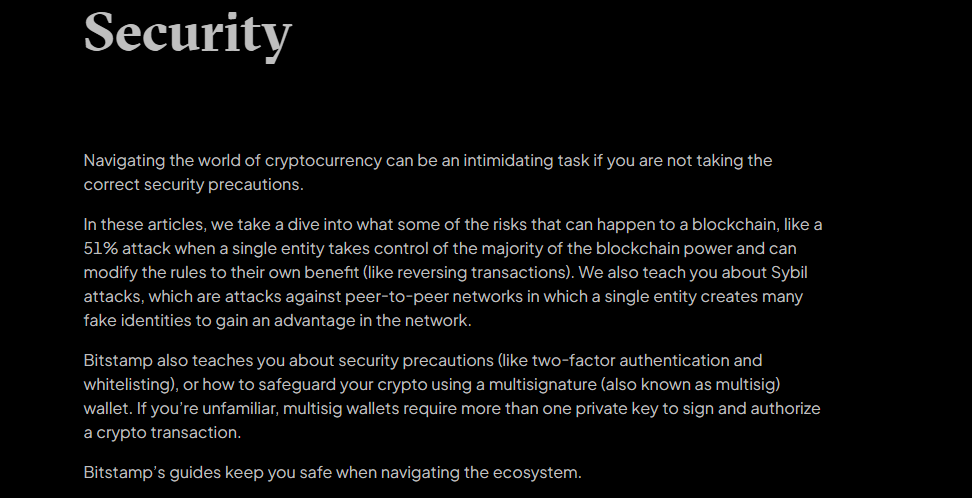 Bitstamp uses industry-standard security practices to keep funds and data secure. Things like cold storage for most digital assets, two-factor authentication, IP whitelisting, and encrypted communication ensure your account and information are protected. Bitstamp hasn't had any major hacks or security breaches in its 9-year history.
Fees
Bitstamp's fees are very reasonable compared to other exchanges. Trading fees are 0.25% for most transactions. Deposits and withdrawals are free for the most part, except for some withdrawal methods like wire transfers. The low, transparent fees show Bitstamp isn't trying to gouge its customers.
Customer Support
This platform is known for providing helpful customer support. You can submit support tickets on their website and typically get a response within a day. They also have phone support and an FAQ section to help resolve any issues. Good customer service is a sign of a reputable company that cares about its users.
Track Record
It has been facilitating crypto trades for almost a decade. It has a proven track record of providing professional trading experience, keeping funds secure, and operating legally and transparently. The fact that Bitstamp has been around so long and built a trusted reputation shows it's a safe and legitimate exchange.
Pros and Cons of Bitstamp
Bitstamp is one of the oldest and most established cryptocurrency exchanges, so it has some clear pros and cons compared to newer exchanges.
Pros
Bitstamp is very secure and regulated. It follows all EU laws and regulations as it is based in Luxembourg. Your funds and data will be safe.

Low fees. Bitstamp charges some of the lowest fees of any major exchange. Trading fees are just 0.25% per trade.

Supports many coins. Bitstamp supports popular coins like Bitcoin, Ethereum, Litecoin, Bitcoin Cash, and Ripple. So you have lots of trading options.

Easy to use. The Bitstamp platform is simple to navigate and suitable for beginners. The interface is clean and intuitive.

Responsive support. Bitstamp provides fast and helpful customer support to resolve any issues. You can contact them 24/7 via chat, email, or phone.
Cons
Limited features. Bitstamp lacks some of the advanced features of newer exchanges like margin trading, futures, and staking. The platform is quite basic.

Smaller selection of coins. Although Bitstamp supports many major coins, it does not have the huge selection of smaller altcoins that some other exchanges offer.

Slower verification. The verification process to open an account and start trading can take several days due to Bitstamp's strict KYC procedures. Some other exchanges verify users much faster.

Restricted access. Bitstamp does not allow users from certain countries like the United States to trade on their platform. So it is not an option if you live in a restricted location.
Final Thought
Bitstamp has been in the game since 2011 and has stood the test of time, proving itself to be a secure, trusted, and compliant exchange for buying and selling major digital currencies.
The trading fees are competitive, the interface is intuitive, and the customer service is responsive and helpful. While the selection of coins is still a bit limited, Bitstamp continues to evaluate new coins to potentially add to their exchange.
If you're looking to dip your toes into the crypto waters, Bitstamp is a great place to start. Thank you all for reading this article.