In the ever-evolving landscape of online trading and investment platforms, eToro stands out as a pioneering platform that has redefined the way individuals engage with financial markets.
Established in 2007, eToro has gained prominence for its unique blend of social trading, innovative features, and user-friendly interface. As an online trading platform, eToro has a lot to offer for both new and experienced traders.
In this article, we'll share everything eToro – from how it works to the pros and cons to look out for. By the end, you'll know if eToro is right for you and your trading needs. So, let's dig into this article.
eToro Review: An Overview of the Popular Trading Platform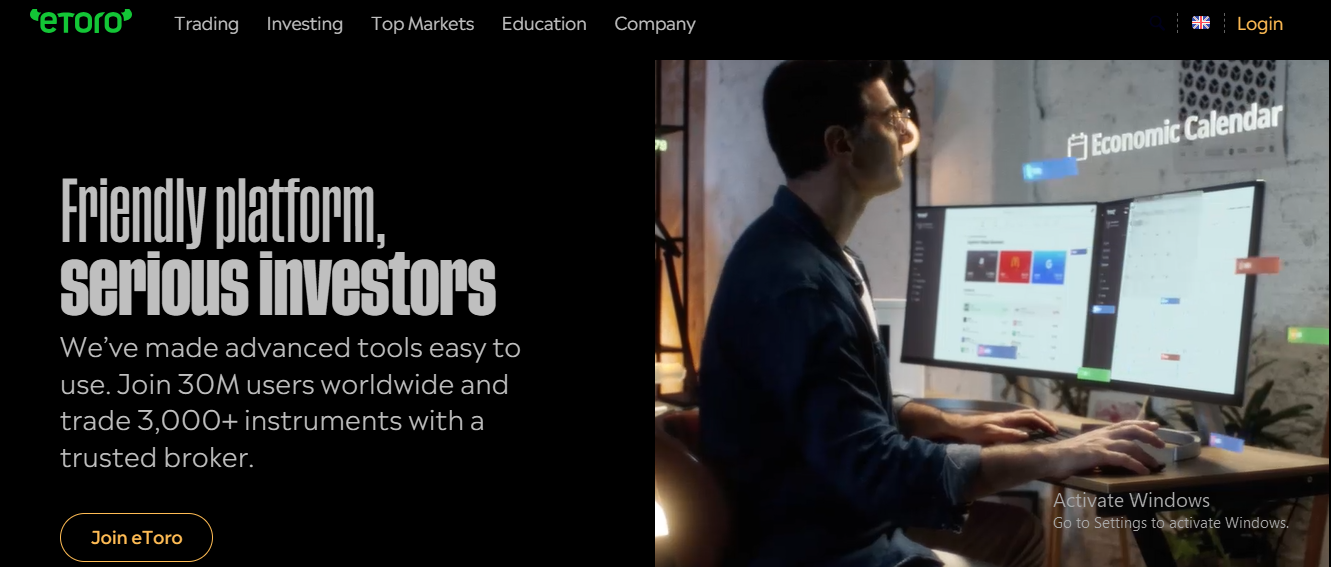 So you want to dip your toe into the world of online trading, huh? eToro is a great place to start. This popular trading platform makes it simple for beginners to buy and sell stocks, ETFs, cryptocurrencies, and other assets.
eToro operates on a "social trading" model, allowing you to view other traders' portfolios and even copy their moves. If you're just getting started, this is an easy way to learn the ropes. You can start with a small amount of capital, follow experienced traders, and build up your skills before making your own trading decisions.
The eToro platform itself is very user-friendly. You can sign up for a free demo account to explore the features with "virtual" money before depositing real funds. The dashboard makes it simple to search for and research various assets. You can check charts, read news, and see how assets are trending.
When you're ready to make a trade, just click "Trade" and enter some basic details like the type of trade (buy or sell), amount, leverage, stop loss, and take profit. eToro will display the fees and full details of your trade before you confirm. They charge low spreads and no commissions for stock and ETF trades.
If you do decide to follow other traders, eToro provides full disclosure on each trader's profile so you can make informed decisions about who to copy based on their trading history, risk score, and more. Whether you want to copy expert traders or forge your own path, eToro gives you the tools and flexibility to invest on your own terms.
Key Features and Tools on eToro
eToro is a popular social trading platform that allows you to copy the trades of experienced investors. Some of the key features that make eToro stand out include: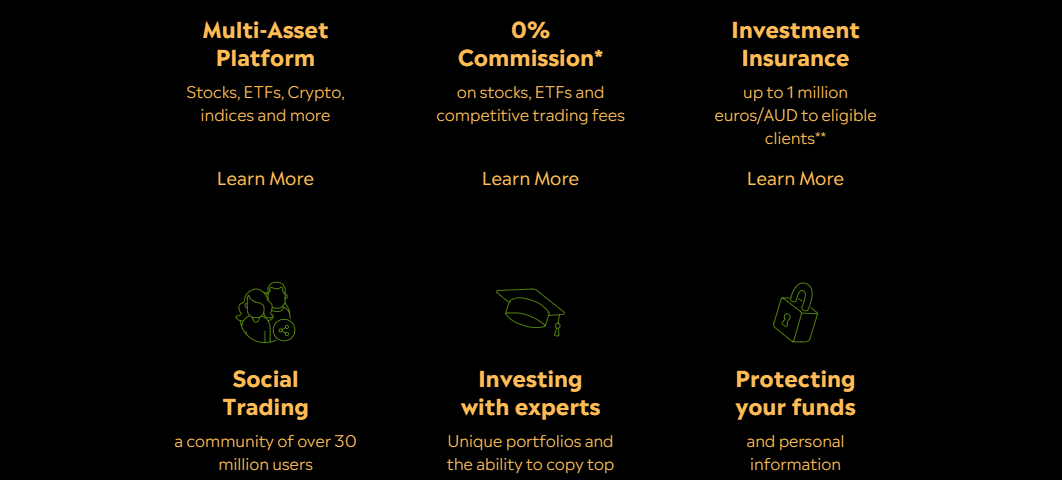 Social trading network: eToro has over 10 million registered users. You can connect with other traders, discuss strategies, and even automatically copy their trades. This is a great way for new investors to learn the ropes.
Zero-commission trading: It doesn't charge any commissions for stock and ETF trades. The only fees are the spreads, which are the differences between the buy and sell prices. These spreads are very competitive.
Cryptocurrency trading: eToro supports a wide range of major cryptocurrencies, including Bitcoin, Ethereum, and Litecoin. You can buy, sell, and hold crypto 24/7. eToro is a secure and regulated platform for trading these volatile digital assets.
Demo account: This platform offers a free demo account with $100,000 in virtual funds. It allows you to practice trading stocks, ETFs, crypto, and more without risking any real money. The demo account is a great way to test strategies and get familiar with eToro's platform before investing your own capital.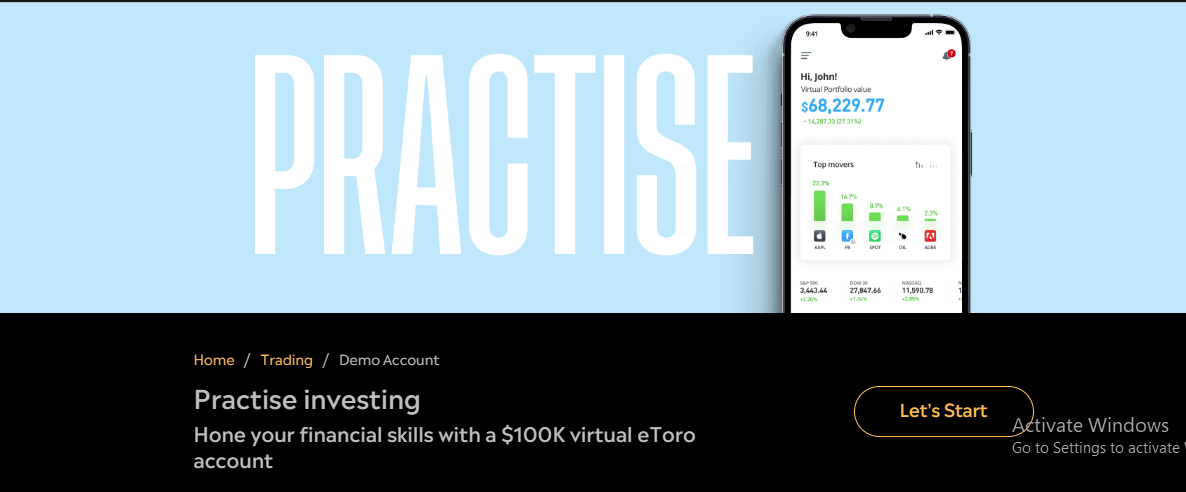 Mobile apps: eToro has intuitive mobile apps for both iOS and Android so you can trade on the go.

The apps have full functionality, allowing you to do everything from depositing funds to researching new trades.
With competitive fees, a social trading network, and support for stocks, ETFs, and crypto, eToro appeals to many investors looking to build their wealth in the global markets. The free demo and mobile apps make it easy to get started, even if you're a newcomer to trading. Overall, eToro is worth checking out.
Is eToro Right for You? Who Should Use It
eToro may be right for you if you're looking for an easy-to-use social trading platform to invest in the stock market. As an online brokerage, eToro allows you to invest in stocks, ETFs, cryptocurrencies, and other assets. The biggest benefit of eToro is that you can automatically copy successful traders. This allows new investors to gain experience without having to do in-depth analysis themselves.
eToro's simple interface and educational tools also make it ideal for beginners. You can learn the basics of trading and investing at your own pace. eToro provides guided tours, video tutorials, and practice portfolios to help you get started. Once you're ready, you can start by investing small amounts of money to build up your experience.
Experienced investors may also like using eToro to find new trading ideas. By following expert traders, you can see the latest market trends and stock picks. You can then do your own research to decide if you want to copy the trade or adjust it to your needs. eToro allows you to filter traders by performance, risk score, and other metrics to find ones that match your trading style.
However, eToro may not suit you if you prefer traditional brokerages or want access to advanced tools. eToro focuses on casual investors and social trading, so it lacks some features found on other platforms. It also charges higher fees than some competitors. The spread on each trade can be up to 5% for stocks and slightly higher for other assets. If low costs are a top priority, you may want to consider other options.
Overall, eToro is best for new investors, especially those interested in social trading and following expert traders. Its simple platform and educational resources provide an easy introduction to the markets. For more advanced needs, though, a traditional brokerage may be a better choice.
Pros and Cons of eToro
eToro's innovative approach to social trading, user-friendly interface, and diverse asset selection make it an attractive platform for both novice and experienced traders. However, users should carefully consider the potential drawbacks of it. Here are some of its pros and cons you should look at:
Pros
Social Trading: eToro's unique social trading feature allows beginners to learn from experienced traders and even replicate their strategies, making it an excellent platform for those looking to enter the trading world.
User-Friendly Interface: The platform's intuitive design and user-friendly interface cater to traders of all experience levels, making it easy to navigate and execute trades.
Diverse Asset Selection: eToro offers a wide range of assets, including stocks, cryptocurrencies, commodities, forex, and indices, enabling users to diversify their investment portfolios.
Cryptocurrency Emphasis: eToro is a standout platform for cryptocurrency enthusiasts, providing access to a vast selection of digital assets and offering unique features like the ability to invest in cryptocurrency portfolios.
Regulation and Security: This platform is regulated in multiple jurisdictions, providing a sense of security and trust to users. The platform also employs stringent security measures to safeguard user data and funds.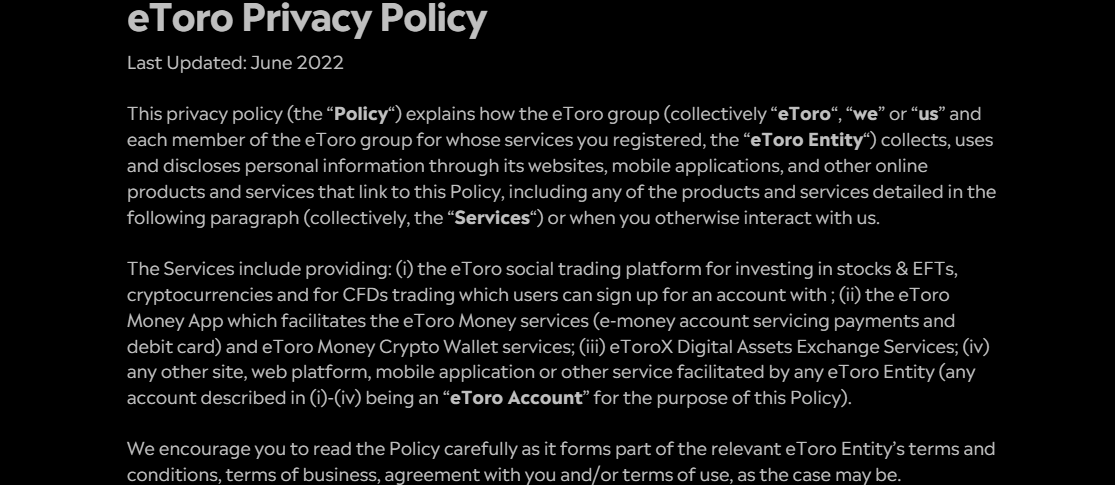 Innovative Tools: eToro offers various tools for technical analysis, real-time market data, and charts, empowering traders with the information they need to make informed decisions.
Cons
Limited Research: While eToro provides basic research tools, it may not offer the extensive research capabilities found on dedicated research platforms.
Dependency on Social Trading: Relying solely on social trading without understanding market dynamics can lead to risks, as blindly copying trades may not always yield successful outcomes.
Final Thought
eToro has a lot to offer both new and experienced traders. The platform isn't perfect, but its pros far outweigh the cons for most people. If you're looking for an easy, affordable way to start trading or want to connect with other traders around the world, eToro is worth checking out.
Who knows, with a little bit of skill and some luck, you might just become the next big thing in social trading. What are you waiting for? Open an account and start trading today! The opportunities are endless.