Do you have an interest in trading cryptocurrencies but are not sure where to start? Let me introduce you to one of the top exchanges in South Korea, Bithumb.
Bithumb is one of the largest cryptocurrency exchanges in the world based on daily traded volume. If you're looking to buy or sell major coins like Bitcoin, Ethereum, or Ripple, Bithumb has everything for you.
The exchange offers a wide range of crypto assets as well as competitive fees. In this review, we'll go through everything you need to know about Bithumb. So, let's dig into this article.
An Overview of the Bithumb Cryptocurrency Exchange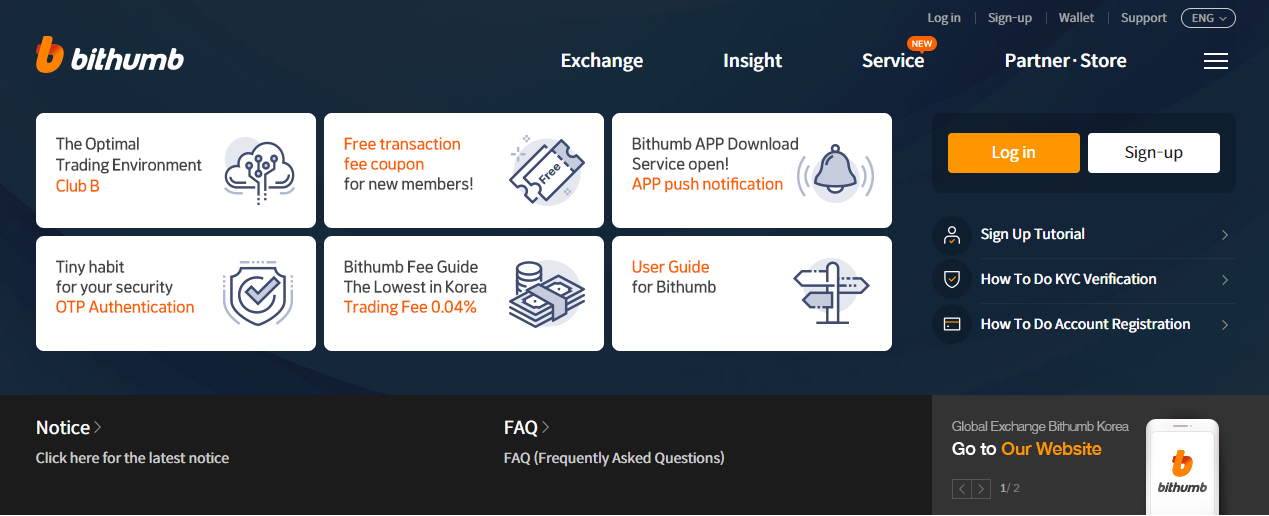 Bithumb is one of the largest cryptocurrency exchanges in South Korea. Founded in 2014, Bithumb allows you to buy and sell many of the most popular cryptocurrencies, like Bitcoin, Ethereum, and Ripple.
To get started with Bithumb, you'll need to create an account and verify your identity. Once your account is set up, you can deposit South Korean won (KRW) or cryptocurrencies to fund your account. Then you're ready to buy and sell! Bithumb offers spot trading, where you can place a market and limit orders. They also have more advanced options like stop-loss and take-profit orders.
Bithumb takes security seriously and stores the majority of user funds in cold wallets, which are offline storage. They also have a robust know-your-customer (KYC) and anti-money laundering (AML) policy. Two-factor authentication is required for all accounts.
Fees on Bithumb are very competitive. Trading fees are 0.15% for makers and 0.15% for takers. There are no fees for deposits and a small withdrawal fee. Bithumb offers a discounted VIP membership with lower fees based on your trading volume.
Supported Cryptocurrencies and Trading Pairs on Bithumb
Bithumb supports many of the most popular cryptocurrencies, so you'll have plenty of options for trading. Some of the major coins available on Bithumb include:
Bitcoin (BTC)

: The original cryptocurrency and still the most widely traded. Bithumb offers BTC trading pairs with KRW and USDT.

Ethereum (ETH)

: The second largest crypto by market cap. You can trade ETH against KRW and USDT.

Ripple (XRP)

: A popular coin for fast, low-cost global payments. XRP is traded against KRW and BTC on Bithumb.

Litecoin (LTC)

: A "silver to Bitcoin's gold" that's ideal for small, everyday transactions. Trade LTC against KRW and BTC.

Bitcoin Cash (BCH)

: A fork of Bitcoin focused on on-chain scaling. BCH is traded against KRW, BTC, and USDT.
With so many coins and trading pairs available, you're sure to find opportunities that match your interests and risk tolerance. The exchange is a great place for both beginners to get started and experienced traders to access new markets.
Bithumb Fees: Are They Competitive?
Bithumb is one of the largest cryptocurrency exchanges in South Korea. When it comes to fees, Bithumb aims to keep them competitive to attract high-volume traders.

Trading Fees
Bithumb charges a flat 0.15% trading fee for all cryptocurrency trades. This is in line with or slightly lower than most major exchanges. If you trade frequently or in high volumes, Bithumb offers a tiered fee structure that can reduce your fees to as low as 0.05%.
To qualify for lower fees, you need to trade a certain amount of Bithumb Points (BHP), which are earned by trading on the exchange. For example, if you trade 100 BHP in a 30-day period, your fees drop to 0.12%. Trade 5,000 BHP and fees fall to 0.1%. The highest tier is 50,000 BHP traded, which earns you the lowest 0.05% fee rate.
Bithumb Points are calculated based on your trading volume. Every 1 million KRW traded earns you 1 BHP. So, to reach the lowest fee tier, you would need to trade about 5 billion KRW or roughly $4.5 million USD in a 30-day period. For most casual traders, the standard 0.15% fee will apply.
Deposit and Withdrawal Fees
Deposits in KRW, BTC, ETH, and USDT are free. Withdrawal fees will vary depending on the cryptocurrency. BTC withdrawals cost 0.0001 BTC, ETH withdrawals are 0.01 ETH, and BCH withdrawals are 0.001 BCH. Fiat currency withdrawals in KRW cost 3,000 KRW.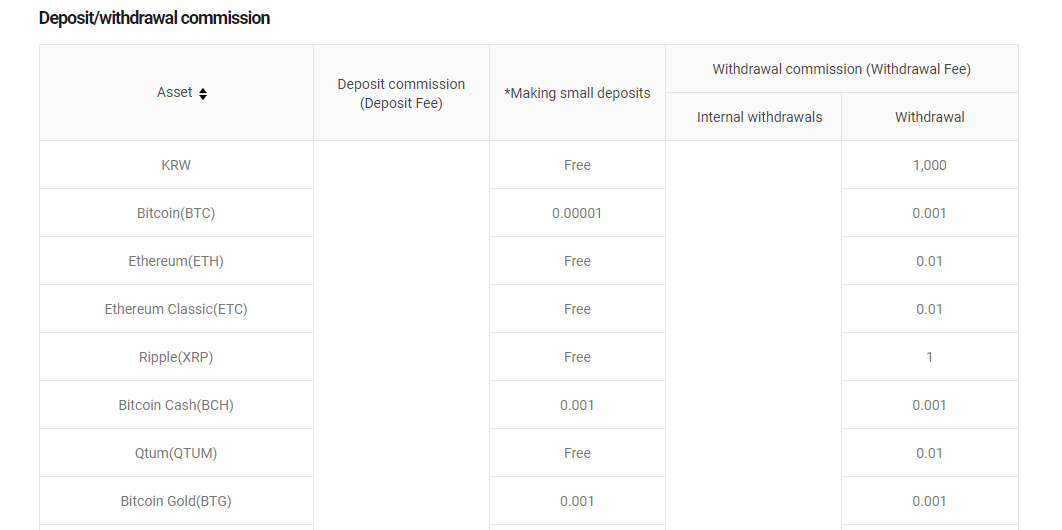 Overall, Bithumb's fees are quite reasonable and in line with major crypto exchanges. For high-volume professional traders, the tiered fee structure provides an incentive to trade more and benefit from lower fees.
But for the typical retail crypto trader, the standard fees are still competitive. The choice of free deposit and withdrawal methods is also appealing. So when it comes to fees, Bithumb can be a solid, affordable choice.
Bithumb Exchange Security and Protection
Bithumb is one of the largest cryptocurrency exchanges in South Korea and the world. When it comes to security, Bithumb takes it very seriously. They implement cutting-edge security systems and encryption to keep your funds and personal information safe.

Bithumb stores the vast majority of users' cryptocurrencies in a cold wallet – an offline storage not connected to the internet. Only a small portion is kept in hot wallets – online storage for immediate liquidity needs.
This limits exposure should their system be compromised. Bithumb also uses SSL encryption, two-factor authentication, and whitelisting IP addresses to prevent unauthorized access. For account security, Bithumb requires a mobile phone number to sign up for an account. They will send you an SMS code as a second layer of authentication for logins and withdrawals.
Bithumb also uses captcha, SMS, and email authentication to prevent bots and suspicious activity. You can also enable two-factor authentication using Google Authenticator for an added layer of security.
It has a strong cybersecurity team monitoring for any suspicious activity 24/7. They utilize machine learning and AI to detect anomalies in user behavior and transactions to prevent fraud. Bithumb also offers users recommendations on how to strengthen the security of your account like using complex unique passwords, enabling two-factor authentication, and more.
In the event of a hack or theft, Bithumb has insurance to cover losses of user funds. They have partnered with reputable insurance providers in Korea to give users peace of mind. Bithumb is transparent in communicating security incidents and has reimbursed users in the past. While no exchange is 100% hack-proof, Bithumb seems to take security and protecting its users' assets very seriously.
Pros and Cons of Bithumb Cryptocurrency Exchange
Bithumb is one of the largest cryptocurrency exchanges in South Korea, so it definitely has some pros and cons you'll want to consider before using it.
Pros
Large selection of cryptocurrencies. Bithumb offers over 100 different cryptocurrencies to trade, so you have lots of options.

High liquidity. Because Bithumb is so popular, it has very high liquidity. This means you can buy and sell quickly without major price impacts.

Beginner friendly. Bithumb has a simple interface that is easy to use, even for beginners. They offer tutorials and 24/7 customer support to help new users.

Low fees. Bithumb charges some of the lowest trading fees of any major exchange, at just 0.15% per transaction.

Mobile apps. Bithumb offers mobile apps for both Android and iOS so you can trade on the go.
Cons
Only KRW trading pairs. You can only trade cryptocurrencies for the South Korean Won (KRW) currency. No USD, BTC, or other pairs are offered.

Limited countries. Bithumb only accepts users from South Korea. Traders from other countries cannot use the platform.

Prone to hacks. Unfortunately, Bithumb has been hacked multiple times in the past, leading to loss of funds for some users. Security is still a concern.

Verification required. To withdraw funds from Bithumb, you must go through a lengthy verification process to prove your identity. This can take weeks to complete.
Final Thought
Now you're armed with the facts to make your own decision about whether Bithumb is the right exchange for your needs. With its huge selection of coins, competitive fees, and generally positive reputation, Bithumb could be a great place to buy and trade crypto.
However, the occasional security issues and customer service complaints are worth keeping in mind. As with any exchange, do your own research to make sure you understand the risks before sending them your hard-earned money.
But if you go in with realistic expectations about what Bithumb offers, you'll probably find it a useful platform for entering the exciting world of cryptocurrency.