As a relative newcomer to the Swiss online brokerage scene, FlowBank already has a lot to offer its customers. FlowBank clients benefit from the benefits of holding a Swiss bank account, and its brokerage services provide access to more promotional symbols than any online broker we've reviewed so far.
But is FlowBank legit and regulated? Can you trust them with your money? We've done the research so you don't have to. By the end of this review, you'll know everything you need to decide if FlowBank is the right broker for your trading needs or not. So, let's dig into this article.
An Overview of FlowBank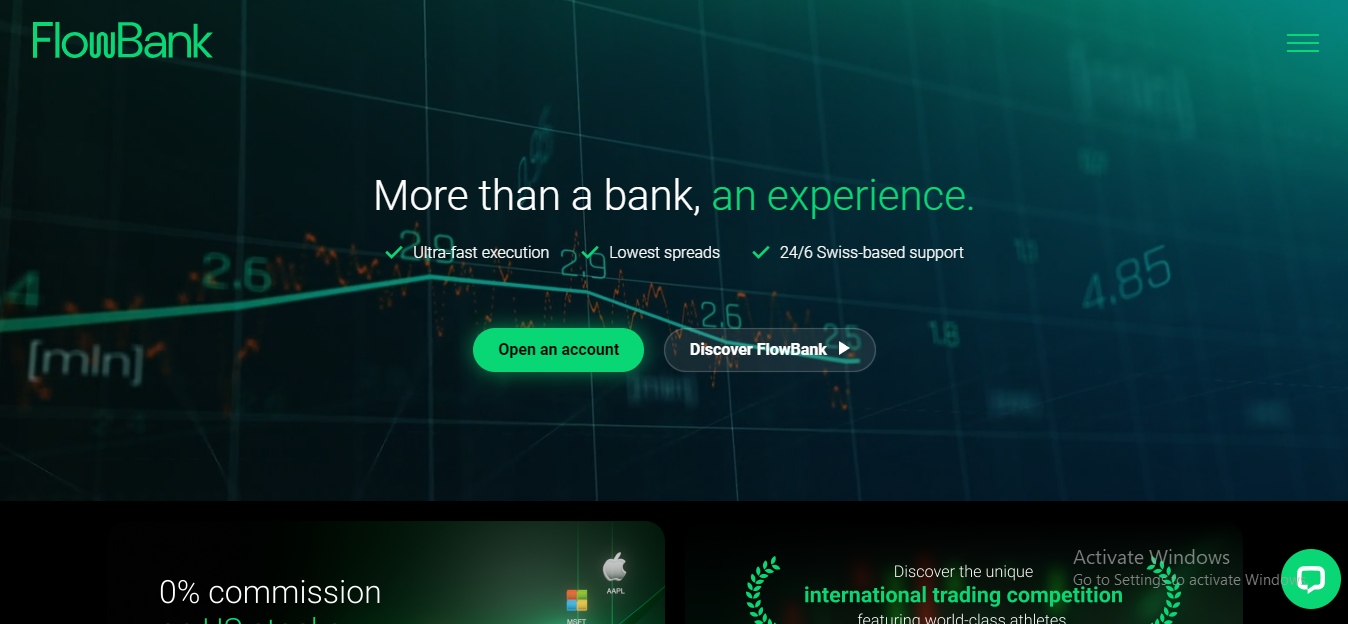 FlowBank is a popular online broker based in Switzerland that offers trading in forex, stocks, ETFs, commodities, indices, and cryptocurrencies.
It operates under regulations from the Swiss Financial Market Supervisory Authority (FINMA). They keep client funds in segregated accounts and use top-tier banks for storage. Two-factor authentication and data encryption help keep your account secure.
FlowBank has a good selection of traders. You can trade over 12,000 stocks, ETFs, and bonds on major exchanges, popular currency pairs and commodities like gold and oil, major world indices, and major cryptocurrencies including Bitcoin.
Regulation and Security of FlowBank
When it comes to regulation and security, FlowBank takes it very seriously. As a Swiss bank, FlowBank operates under regulations from the Swiss Financial Market Supervisory Authority (FINMA). This means your money and data are protected under Swiss banking laws, considered some of the strictest in the world.

FlowBank is also a member of esisuisse, the Swiss deposit protection fund, which insures your account up to CHF 100,000. On top of that, FlowBank uses industry-standard SSL encryption and two-factor authentication to keep your account information and transactions secure.
If you do run into any issues, FlowBank's support team is there to help. They provide customer service 24 hours a day, 5 days a week via phone, email, and live chat. The support staff are knowledgeable, responsive, and able to assist you in English, French, German, and Italian.
What you Can Trade on FlowBank?
FlowBank offers a wide range of tradable assets to suit any investor's needs. You'll find everything from stocks, bonds, and ETFs to forex, crypto, and commodities.
Stocks

: Trade over 4,500 stocks from major exchanges like the NASDAQ and NYSE. FlowBank offers US, UK, German, and Swiss stocks.

ETFs

: Choose from a selection of over 1,500 ETFs covering various sectors, regions, and asset classes.

Bonds

: Invest in government and corporate bonds from the US, UK, Germany, and Switzerland. Options include inflation-linked, zero-coupon, and floating-rate notes.

Forex

: Access 50 major, minor, and exotic currency pairs with tight spreads and no commissions. FlowBank is great for new and experienced forex traders.

Crypto

: Trade five of the most popular cryptocurrencies – Bitcoin, Ethereum, Litecoin, Ripple, and Bitcoin Cash against USD and EUR.

Commodities

: Speculate on the price of gold, silver, crude oil, natural gas, and copper. Trade is available 23/5 with competitive spreads.
Fees of FlowBank
FlowBank keeps fees straightforward and competitive. To open an account, there is no minimum deposit required. You can fund your account through bank wire transfers, and major credit/debit cards like Visa and Mastercard, Skrill, Neteller, and PayPal.
Deposits and Withdrawals
Depositing funds into your FlowBank account is free of charge. Withdrawals can be made at any time through bank wire transfer, with a $25 fee. Keep in mind wire transfers can take 2-5 business days to complete.
Trading Fees
FlowBank uses a tiered fee structure based on your account balance. The more you trade, the lower your fees. For accounts under $10,000, expect to pay $5 per trade. From $10,000 to $100,000, fees drop to $3 per trade. For over $100,000, you'll pay only $1 per trade.
Competitive spreads are available on over 10,000 global markets, including forex, stocks, indices, commodities, and cryptocurrencies. Spreads start at just 0.8 pips for EUR/USD. Commission-free stock trading is offered on major US exchanges.
Additional Fees
Some additional fees to be aware of include:
Inactivity fee of $15 per month after 6 months of no trading activity.

Rollover fees for holding leveraged CFD positions overnight.

Conversion fees for exchanging funds from one currency to another.
FlowBank Customer Support
FlowBank offers customer support through multiple channels to provide you with help whenever you need it.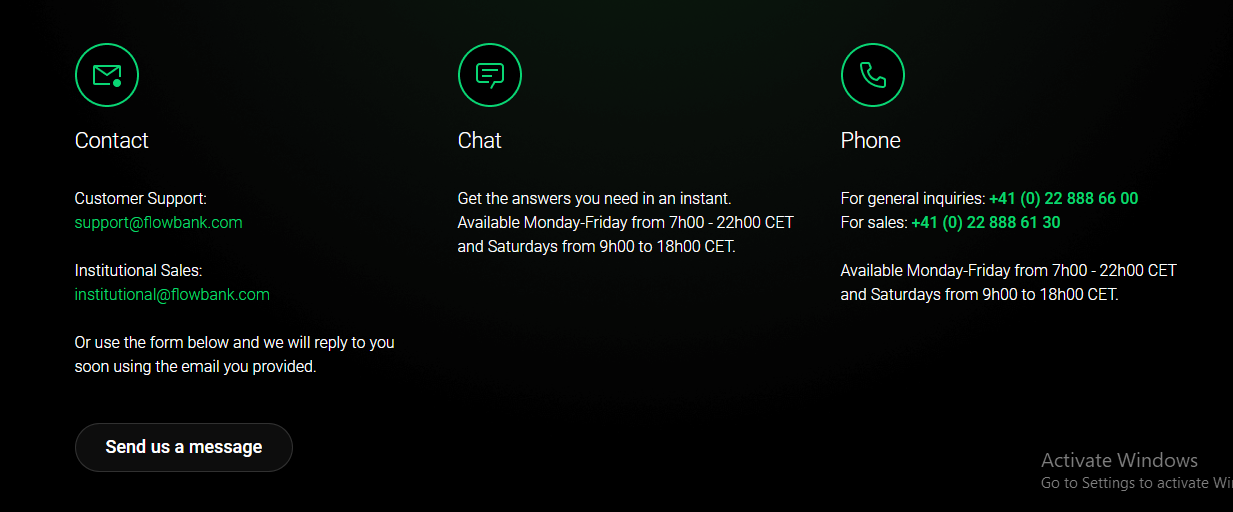 Phone Support
FlowBank has dedicated phone support available during market hours from Monday to Friday. You can call them for help with anything from account opening questions to platform navigation. Their phone numbers are:
Switzerland: +41 58 721 93 93

Germany: +49 69 222 26 89 60

France: +33 1 86 26 83 41

UK: +44 20 3868 9890
Live Chat
For quick questions, FlowBank offers live chat support on their website. Live chat is available during the same hours as phone support. This can be a convenient way to get information or troubleshoot minor issues without having to call in.
Email Support
If your question isn't urgent, you can also reach the FlowBank support team by email. They aim to respond to all emails within one business day. You can email them at:
support@flowbank.com for general inquiries

compliance@flowbank.com for compliance-related questions

account@flowbank.com to unlock your account or reset passwords
The customer service team at FlowBank seems dedicated to providing fast, knowledgeable support to help you get the most out of their platform. With multiple ways to contact them and coverage during full market hours, you should be able to get answers to any questions about your FlowBank account.
Is FlowBank Legit or Scam?
With so many online brokers these days, it can be difficult to determine which ones are legitimate and trustworthy. When it comes to FlowBank, you can rest assured it is not a scam. FlowBank is a reputable Swiss online broker, regulated by the Swiss Financial Market Supervisory Authority (FINMA).
FINMA strictly monitors FlowBank to ensure it complies with all regulations. Your money and data will be kept secure with FlowBank thanks to Swiss banking privacy laws and top-notch encryption technology. You can feel confident your funds and information are in good hands.
FlowBank has been in business since 1998, demonstrating its longevity and stability. Over 300,000 clients across Europe trust FlowBank for their trading and investing needs. FlowBank would not still be operating today if it was running some kind of scam or fraudulent activity.
Pros and Cons of FlowBank
Pros:
Low fees: FlowBank charges no commissions for stock, ETF, or option trades. There are also no fees for withdrawals or account inactivity.
User-friendly platforms: FlowBank's web and mobile platforms are intuitive and easy to navigate. They offer robust charting tools, pre-built strategies, and screeners to help you analyze the markets.
Extensive product offering: You can trade stocks, ETFs, options, bonds, forex, and CFDs on FlowBank's platforms. They offer access to major global exchanges like NYSE and NASDAQ as well as European exchanges.
Cons:
Higher spreads: While FlowBank doesn't charge commissions, the spread between the buy and sell price of assets may be wider than competitors. This can increase your trading costs, especially for frequent traders.
No retirement accounts: FlowBank does not currently offer any tax-advantaged retirement accounts like IRAs. So it may not be ideal if you want to invest for long-term financial goals.
Final Thought
FlowBank seems like a reputable broker that provides a good range of investment products for traders of all experience levels. With competitive fees, a simple account opening process, and strong customer support, FlowBank checks most of the boxes.
The biggest downside is the lack of cryptocurrency trading for now. But if you're looking to trade forex, stocks, ETFs, or CFDs, FlowBank is worth consideration.