Bitfinex is one of the most popular cryptocurrency exchanges worldwide, notable for its low fees. It is also closely related to the Tether stablecoin, which has put the exchange in trouble with regulators. 
Its low fees are a great advantage for many traders, but its spotty history could be a concern for potential users. In this full review of Bitfinex, we'll give you an inside look at everything you need to know about this pioneering exchange that's been around since 2012. 
From a huge range of supported coins and tokens to advanced trading features to funding and withdrawal options, we'll cover everything. So, let's dig into this article.
Trading Options and Fees on Bitfinex

Bitfinex is one of the largest and most advanced cryptocurrency exchanges out there. When it comes to trading options and fees, Bitfinex has you covered.
It offers a variety of order types to suit any trading strategy. You can place market orders to buy or sell instantly at the current market price or limit orders to buy or sell only at a specific target price. Bitfinex also offers stop and trailing stop orders, fill or kill orders, and more.
When it comes to trading fees, Bitfinex uses a maker-taker model. Maker fees are 0.1% for all traders, while taker fees start at 0.2% and can go as low as 0.08% for high-volume traders. This platform also offers volume-based discounts for traders with a 30-day trading volume of over $10 million. You can offset some of your fees by using Bitfinex's native BFX token.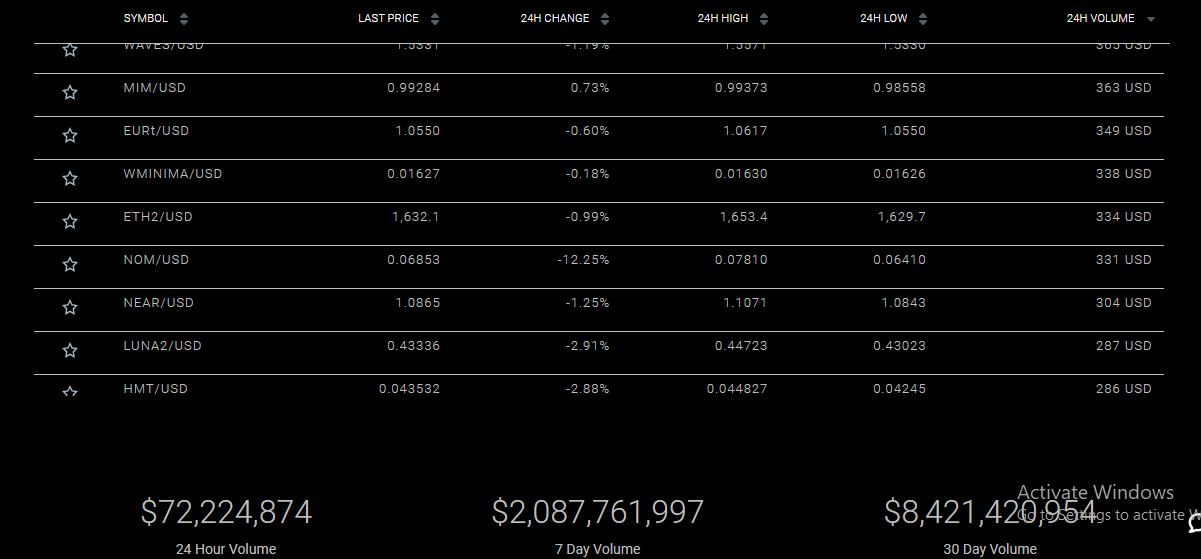 Bitfinex allows margin trading with a leverage of 3.3x for most trading pairs. Margin funding is available for traders who want to provide liquidity to margin traders. Funding rates can vary but often provide attractive returns.
Overall, between the variety of order types, competitive fees, margin trading, and advanced interface, Bitfinex provides professional trading tools and options for traders of all levels. If you're looking for a full-featured cryptocurrency exchange for spot trading or margin trading, Bitfinex is an excellent choice.
Security and Customer Support
Bitfinex takes security very seriously and aims to protect customer funds and personal information. They store 99.5% of users' digital assets in cold wallets that are offline. This makes them much harder for hackers to access. Bitfinex also offers two-factor authentication using Google Authenticator which provides an extra layer of protection for your account.

However, Bitfinex has been hacked in the past. In 2016, Bitfinex lost $72 million worth of bitcoin. While no customers lost funds, it did impact their operations for a short time. Since then, Bitfinex claims to have bolstered its security and now offers a bug bounty program that rewards researchers for finding and reporting vulnerabilities. They also conduct regular security audits to identify any weaknesses.
Customer support is available 24/7 via online chat on Bitfinex's website and mobile app. Response times are typically very fast, within just a few minutes. The support staff is knowledgeable and able to answer questions about using the platform as well as more complex inquiries regarding cryptocurrencies and trading.
Bitfinex also has an extensive knowledge base with over 200 help articles as well as video tutorials to help users get started. Some users do report long wait times, especially during periods of heavy trading volume. Bitfinex is also not regulated in the US, so if you have an issue with the exchange, there is limited legal recourse.
It's a good idea to start with small amounts when using Bitfinex until you gain more experience with their platform and processes. While security and support are strengths of the Bitfinex exchange, there is always room for improvement.
New and existing users would benefit from quick resolution of support requests, especially those involving account access or fund transfers. Additional transparency into audits, compliance procedures, and the status of user requests can also build trust in the platform.
Is Bitfinex Right for You? A Summary of Our Findings
So, is Bitfinex the right cryptocurrency exchange for you? Here are some key points to consider:
Security
Bitfinex takes security seriously and uses measures like two-factor authentication, IP address whitelisting, and PGP email encryption to help keep accounts secure.
However, Bitfinex has been hacked in the past, losing about 120,000 BTC in 2016. As long as you enable security features and are cautious with your account, Bitfinex can still be secure to use, but be aware of the risks.
Fees
Bitfinex charges 0.1% trading fees for makers and 0.2% for takers, which is lower than some other large exchanges. Deposit and withdrawal fees will vary depending on the cryptocurrency, but are overall reasonable. Margin trading fees are also typically 0.1% to 0.2% which is fairly standard in the industry.
Supported Cryptocurrencies
It supports a good range of popular cryptocurrencies, including Bitcoin, Ethereum, Litecoin, EOS, and several others.
They are always adding new coins, so the selection is constantly improving. Margin trading is available for most supported coins.
Customer Support
Bitfinex's customer support seems to be hit or miss. Some users report quick, helpful responses to questions and issues. However, others complain about a lack of phone support, slow response times, and unresolved problems. As with any exchange, do your own research to determine if their support meets your needs.
Pros and Cons of Bitfinex
Bitfinex is one of the largest and most popular cryptocurrency exchanges, but it certainly has its pros and cons. Here are some of the main ones to consider before trading on their platform.
Pros
Large selection of cryptocurrencies. Bitfinex offers over 140 different crypto coins and tokens to trade, so you have lots of options.

Advanced trading features. For experienced traders, Bitfinex has options like margin trading, short selling, and more.

Secure platform. Bitfinex takes security seriously and stores most digital assets in cold storage, meaning offline wallets, to reduce hacking risks. They also offer users two-factor authentication.
Cons
Controversial history. Bitfinex has been involved in a few controversies over the years, like being hacked in 2016 and accused of hiding losses. This shady history makes some users wary.

Not beginner-friendly. The advanced tools and charts on Bitfinex can be complicated for new crypto traders to understand. The interface isn't very intuitive.
Final Thought
As one of the oldest and largest crypto exchanges, Bitfinex is a solid choice if you're looking to buy or trade major coins like Bitcoin, Ethereum, and Litecoin.
Their advanced trading platform and options are great for experienced traders. While their security and customer service could use some improvement, Bitfinex remains an industry leader.
As with any exchange, do your own research to make sure their offerings meet your needs. But for many crypto enthusiasts, Bitfinex has been the go-to platform for years.