Are you interested in Forex trading and looking for a broker? FXCM has likely come up on your radar, as they're one of the biggest forex brokers out there.
But with so many options, how do you know if FXCM is right for you? Don't worry, we've done the research so you don't have to. In this article, we'll share everything about FXCM. By the end, you'll know if FXCM deserves your business and hard-earned cash.
Forex trading can be risky, so choosing a broker you can trust is critical. Read on to find out if FXCM is the real deal or just a lot of hype. So, let's dig into this article.
An Overview of FXCM Broker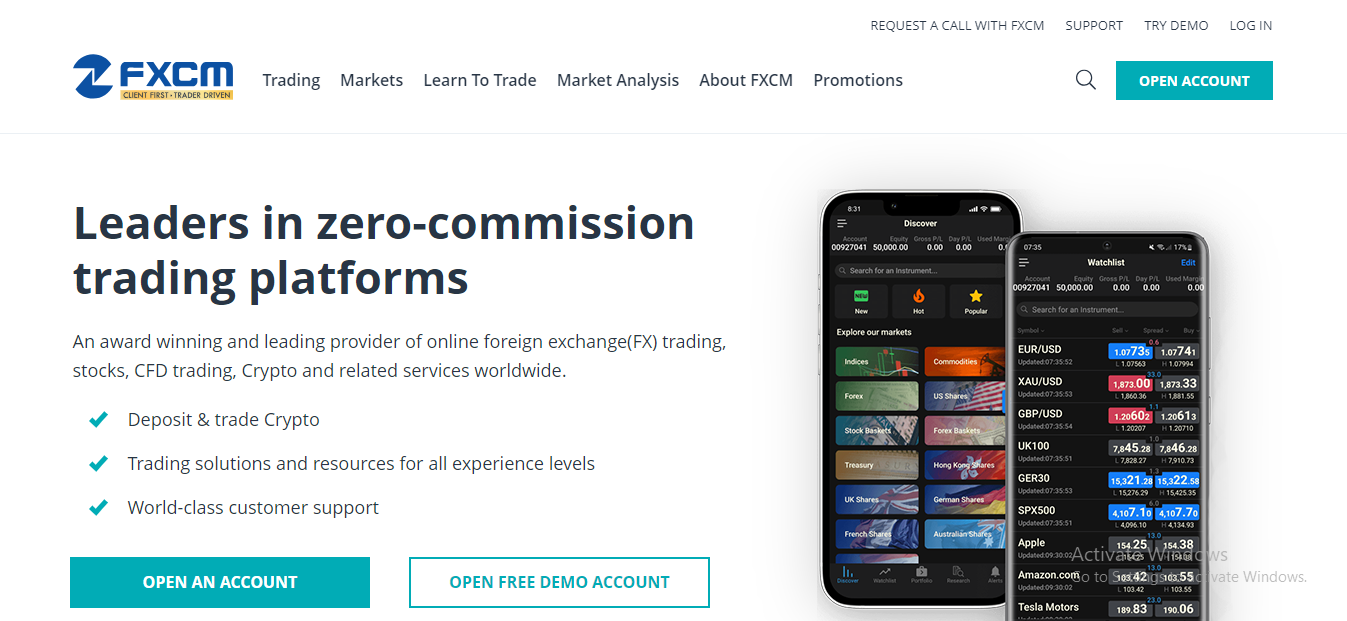 FXCM is one of the world's leading forex brokers. Founded in 1999, FXCM has grown into a global company with offices around the world. It is regulated in major jurisdictions, allowing them to service clients from over 180 countries.
It offers trading on over 60 currency pairs, precious metals like gold and silver, stock indices, crude oil, and Bitcoin. You can access these markets via FXCM's trading platforms – Trading Station, MetaTrader 4, NinjaTrader, and ZuluTrade. FXCM caters to all traders, from beginners to pros, with resources to help you learn and improve.
FXCM's customer service is available 24 hours a day, 5 days a week to assist you. You can fund and withdraw from your account in several ways, including wire transfers, credit/debit cards, PayPal, and more. FXCM does not charge any commissions on forex trades.
They make money through the bid-ask spread, which is the small difference between the buy and sell price. Spreads are variable and widen during news events and volatile markets.
Overall, FXCM is a reputable broker for forex and CFD trading. They offer competitive spreads, a range of trading platforms, and educational resources for new traders. FXCM is a good choice if you're looking for an established broker with global regulation and support.
FXCM Trading Platforms: A Full Analysis
FXCM offers two robust trading platforms: Trading Station and MetaTrader 4. Let's explore each in detail.
Trading Station
FXCM's flagship platform is Trading Station. It's a fully customizable trading environment with advanced charting tools, automated trading strategies, and real-time market news and analysis.

Some of the standout features are:
Highly advanced charting with over 100 indicators and drawing tools. You can save and share your own templates.

Automated trading through Expert Advisors that can execute trades even when you're not online.

Robust mobile apps so you can trade on the go with your smartphone or tablet. The apps offer full platform functionality.

Free real-time market news, analysis, and trading alerts to help you make informed decisions.

Available as a web-based platform or desktop download. The choice is yours.
MetaTrader 4
For traders who prefer the popular MT4 platform, FXCM also offers a customized version with tight spreads and fast execution.

Some perks include:
Full access to MT4's library of Expert Advisors, custom indicators, and scripts.

Available as mobile apps for iOS and Android so you're never far from your trades.

Seamless one-click trading from charts.

Hedging is allowed, unlike some other MT4 brokers.
FXCM is a broker focused on client success, and its trading platforms are a prime example. Whether you opt for Trading Station or MT4, you'll have a robust, full-featured environment to actively trade the markets.
Is FXCM Broker Right for You?
So, is FXCM broker right for you? That depends on your needs and goals as a trader. Here are some things to consider:
FXCM is best suited for beginner to intermediate forex traders. Their platforms are easy to use but still provide all the tools you need to analyze the market and place trades. FXCM also offers a free demo account so you can practice trading risk-free before putting real money on the line.
If low costs are a priority, FXCM may be a good fit. They are one of the most affordable forex brokers, with no inactivity fees, low spreads, and minimal commissions. This can save you hundreds or even thousands of dollars per year compared to other brokers.
However, if you're an advanced or professional trader, FXCM may lack some of the features you need. Their platform is basic, without a lot of customization options or advanced tools for technical analysis. They also have a more limited range of forex pairs and CFDs available to trade compared to other brokers.
FXCM is a reputable, regulated broker, which provides security and peace of mind. However, some traders were affected in the past during the SNB crisis. If maximum capital protection is most important to you, other brokers with stricter regulation may be better options.
So, FXCM can be a solid choice if you're a beginner trader looking for an easy-to-use platform, low costs, and a trusted broker. But as your needs and skills advance, you may eventually outgrow what they offer. The most important thing is finding a broker that suits your unique priorities and trading style.
Pros and Cons of FXCM Broker
You already had some ideas on the FXCM broker. Now it's time to know some of its good and bad things so that you can make a decision in a quick time. So, keep reading.
Pros
Regulation and Reputation: FXCM is regulated by multiple financial authorities in various countries, which can provide a sense of security and trust for traders.
Range of Instruments: FXCM offers a diverse range of trading instruments beyond forex, including commodities, indices, and cryptocurrencies.
Educational Resources: The broker provides educational materials, webinars, and trading tools to help traders improve their skills and knowledge.
Trading Platforms: FXCM offers various trading platforms, including their proprietary Trading Station platform and popular MetaTrader 4 (MT4) platform.
Cons
Spread and Fees: Some traders have reported that FXCM's spreads and fees can be relatively higher compared to other brokers. It's important to compare these costs before trading.
Leverage Restrictions: Due to regulatory changes, leverage limitations may apply depending on your location. This could potentially impact your trading strategy.
Final Thought
FXCM has been around for decades, is regulated and trusted, and offers competitive spreads and a solid trading platform with lots of resources to help you learn the ropes. The choice is ultimately up to you and what you're looking for in a broker, but FXCM seems to check most of the important boxes.
Why not give their demo account a try and see if it's the right fit for your trading needs? You've got nothing to lose, and a new world of opportunity to gain. Take the plunge, open an account, fund it, and start trading – you might just find a new passion and skill that serves you well for years to come.