Gate.io has been around since 2013, so they have a ton of experience in the crypto space. They offer a wide range of coins to trade, competitive fees, and advanced trading features for the power users out there.
However, the interface can be a bit clunky, and customer support has room for improvement based on user reviews.
Overall though, Gate.io is a solid, reputable exchange, especially if you're looking to trade some of the more obscure altcoins. Want to learn more about it? Let's dig into this article.
An Overview of Gate.io Cryptocurrency Exchange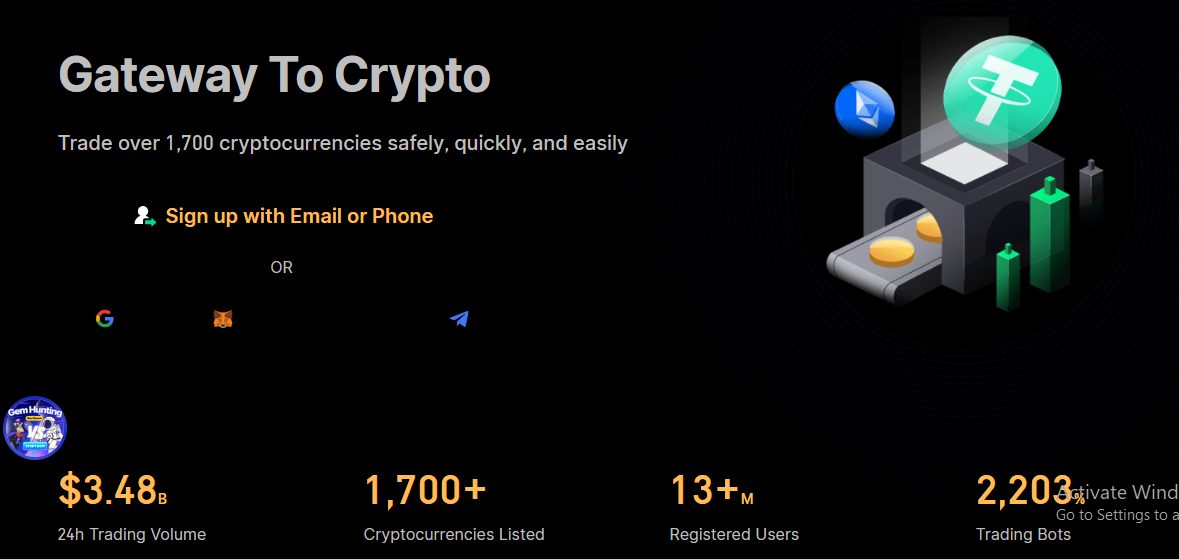 If you're looking to dip your toes into the world of cryptocurrency, Gate.io is a great exchange to start with. As one of the oldest and largest crypto exchanges, Gate.io offers a wide range of coins at competitive prices.
Gate.io launched in 2013 and now serves over 2 million users worldwide. On the exchange, you'll find major coins like Bitcoin, Ethereum, and Litecoin as well as smaller altcoins. In total, Gate.io lists over 600 different cryptocurrencies.
Getting started on Gate.io is simple. You can open an account for free and fund your account with a wire or wire transfer, credit/debit card, or other cryptocurrencies. Gate.io only requires an email to sign up and does not ask for personal information like names or addresses.
Once your account is set up, you can easily buy, sell, and trade crypto on the platform. Gate.io's interface is intuitive and suitable for both beginner and advanced traders. For new users, the exchange offers a "beginner" setting which simplifies the interface. You can also enable two-factor authentication on your account for extra security.
Not just spot trading, Gate.io offers margin trading, futures contracts, over-the-counter (OTC) trading, and crypto loans. The exchange regularly runs competitions, promotions, and giveaways for users. Overall, Gate.io is a full-featured exchange that provides a great experience for cryptocurrency trading.
User Experience on Gate.io
Gate.io is one of the world's oldest and most popular crypto exchanges, so you'd expect a pretty slick user experience. And you won't be disappointed. The sleek and modern interface is intuitive to navigate.
Once you sign up for an account, you'll be able to access the main trading page. This shows you an overview of the current market with price charts, buy/sell orders, and trade history. You can easily filter by different coins, markets or trading pairs to see exactly what you want.
Gate.io offers a full suite of trading options like spot trading, margin trading, and futures trading. The trading dashboard has all the tools experienced traders expect, with multiple charts, indicators, and drawing tools for analysis.
At the same time, it's simple enough for beginners to get started with basic buys and sells. Funds are very secure on Gate.io, with options like 2FA, SMS authentication, and email verification to keep your account locked down. Depositing and withdrawing funds is straightforward, with support for credit cards, wire transfers as well and many cryptocurrencies.
Trading Cryptocurrencies on Gate.io
Trading cryptocurrencies on Gate.io is relatively straightforward. Once you fund your account with crypto or USD, you can start trading right away.
Finding trading pairs
Gate.io offers over 200 trading pairs to choose from. You'll find major coins like Bitcoin, Ethereum, and Litecoin paired with USDT (a stablecoin pegged to the US dollar). You can also trade less common altcoins and DeFi tokens. Select a trading pair from the list to view the order book and price chart.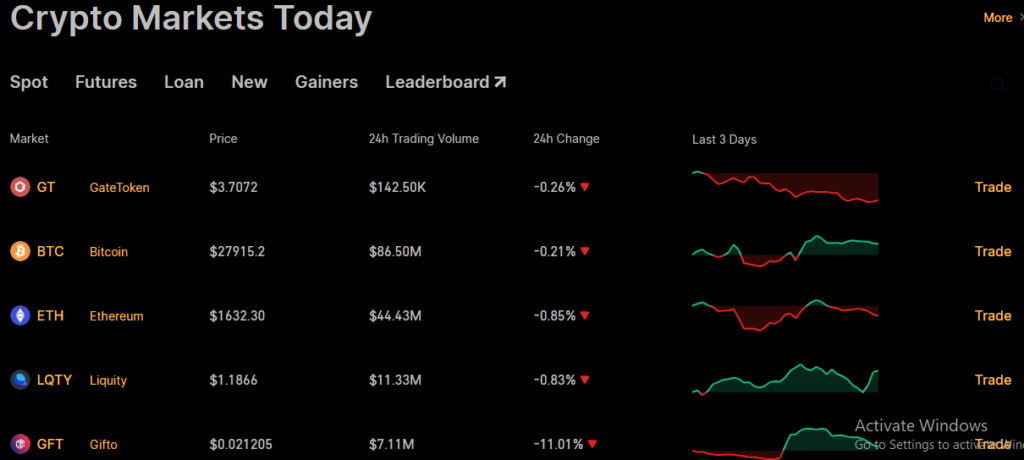 Placing orders
It allows you to place market, limit, and stop-limit orders. A market order will be executed immediately at the best available price. Limit orders let you set a target price to buy or sell.
Stop-limit orders combine stop losses and limit orders, allowing you to set a stop price and limit price. This helps ensure your order fills within a certain price range.
Transaction fees
Gate.io charges 0.2% as a maker fee and 0.2% as a taker fee. This means fees are the same whether you add or remove liquidity. Fees are generally lower than other major exchanges. Gate.io frequently runs promotions offering discounted or zero-fee trading, so check their website and social media for the latest offers.
Security
This platform takes security seriously and stores the majority of user funds in cold wallets. Two-factor authentication, anti-phishing codes, and whitelisting help protect your account.
Gate.io also has a "risk control" system that can temporarily restrict withdrawals if suspicious account activity is detected. Some users report delays in withdrawing certain coins, so keep this in mind.
Is Gate.io Safe and Legit?
Gate.io is one of the oldest and most reputable cryptocurrency exchanges, launched in 2013. However, with so many exchanges now available, you may be wondering if Gate.io is legit and safe to use. Here are some factors to consider:
Security
Gate.io takes security seriously and stores the majority of users' funds in cold wallets – offline storage not connected to the internet.

They also implement SMS authentication, Google 2-factor authentication, and use SSL encryption for user data. Gate.io has never been hacked.
Regulation
It is not formally regulated, as cryptocurrency regulations are still developing. However, they do follow general KYC (Know Your Customer) and AML (Anti-Money Laundering) policies. U.S. customers have access to Gate.io, but there may be certain restrictions. It's a good idea to check with your local regulations.
Fees
Gate.io's fees are very competitive. Trading fees are just 0.2%, lower than many other top exchanges. Deposits are free and small withdrawal fees will apply depending on the specific coin.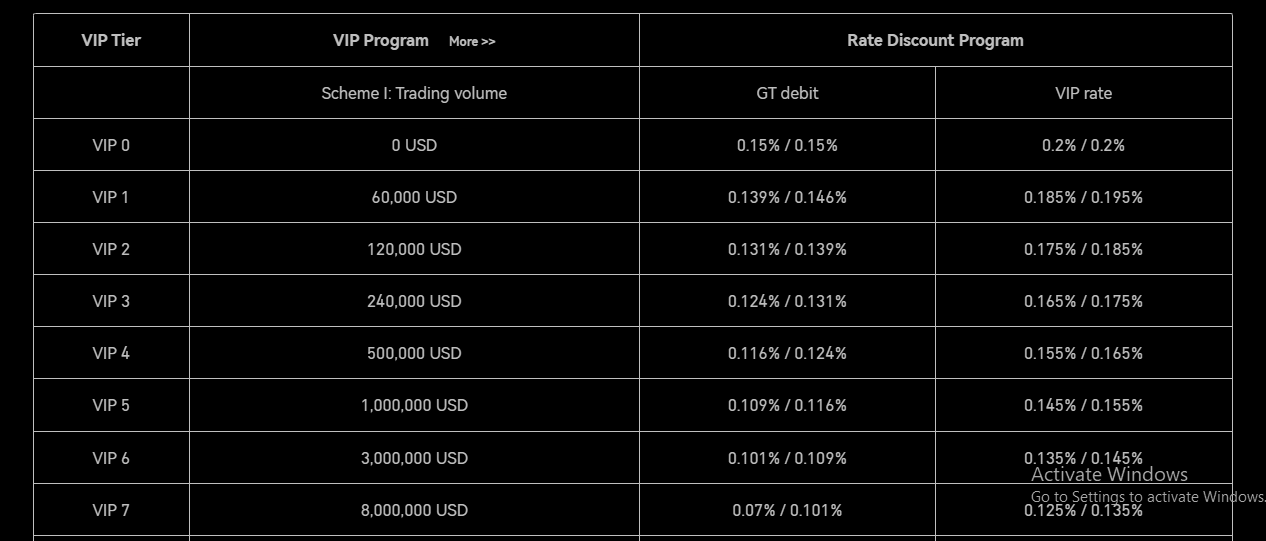 It does not charge any listing fees for new coins which is a good sign of their commitment to the crypto community.
Liquidity
With over 600 crypto assets and high trading volumes, Gate.io provides ample liquidity. You should be able to buy and sell major cryptocurrencies with minimal price slippage. Limit orders are available if you want more control over your entries and exits.
Customer Support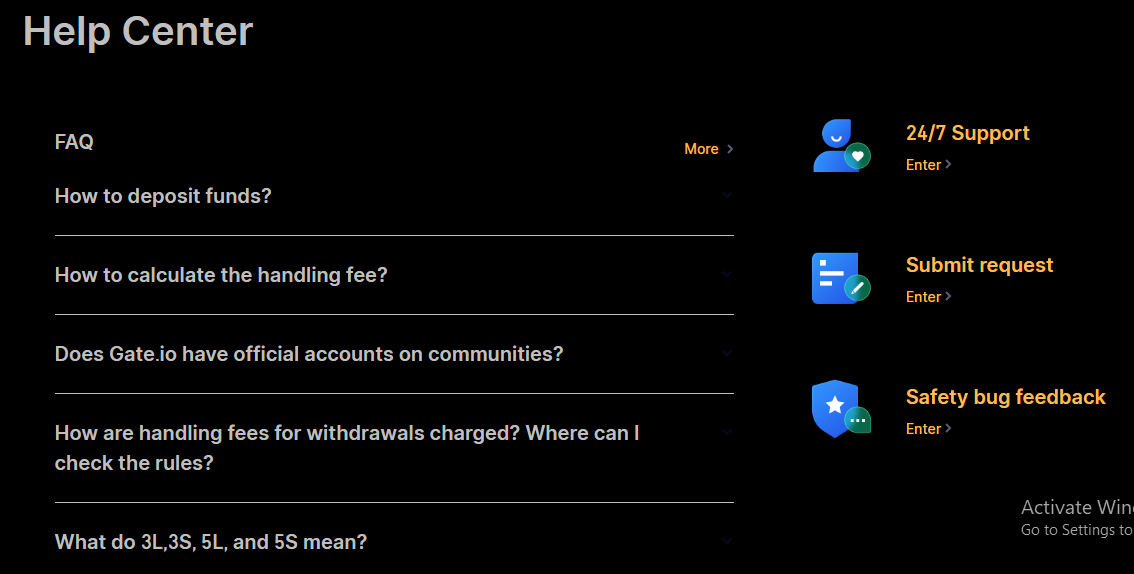 Gate.io provides 24/7 customer support via email and a ticket system. Response times are typically within 12 hours. They also have an extensive help center and knowledge base with useful guides on how to get started and frequently asked questions.
Pros and Cons of Gate.io
Gate.io is one of the largest crypto exchanges, with over 200 coins and 400 trading pairs. As with any exchange, there are some pros and cons to consider before trading on Gate.io.
Pros
Low fees. Gate.io charges very low trading fees, just 0.2% per trade. They also regularly run fee discount promotions.

High liquidity. Gate.io has a high trading volume which means fast transaction times and stable prices. You can buy and sell quickly without major price impacts.

Variety of coins. Gate.io offers a wide selection of both major cryptocurrencies like Bitcoin as well as smaller cap altcoins. There are lots of opportunities to discover new crypto gems.

Secure platform. Gate.io uses offline cold storage for the majority of user funds. They also enable two-factor authentication and other security features to help keep accounts safe.
Cons
Complicated interface. The Gate.io platform can be difficult to navigate for beginners. The charts, graphs, and trading options may seem complex if you're just getting started with crypto.

No fiat trading. You can't buy crypto directly with USD or other fiat currencies on Gate.io. You'll need to buy a stablecoin like USDT first and then trade that for the crypto of your choice.
Final Thought
As you've seen, Gate.io is a reputable exchange that provides a solid platform to buy, trade, and sell cryptocurrencies with reasonable fees and security measures in place to protect your funds.
The wide selection of coins and trading options gives you the flexibility to execute your trading strategy. The additional services like margin trading, futures contracts and staking rewards provide opportunities to maximize your returns.
While the exchange isn't perfect and still has room for improvement, Gate.io is a good option for both novice and experienced traders to enter and participate in the exciting world of cryptocurrency.