The hype around digital coins like Bitcoin and Ethereum is real. But to trade crypto, you need an exchange to buy and sell on. One option worth checking out is LBank.
LBank is a popular crypto exchange that's been around since 2015. It offers over 200 different cryptocurrencies for trading, from major coins to smaller altcoins. The platform is easy to use, even for beginners, and has strong security to keep your funds safe. LBank also has an active community and lists new, promising crypto projects all the time.
If you're ready to become the next crypto millionaire, LBank is a great place to start. In this review, we'll go through everything you need to know to get started with LBank.
What Is the LBank Cryptocurrency Exchange?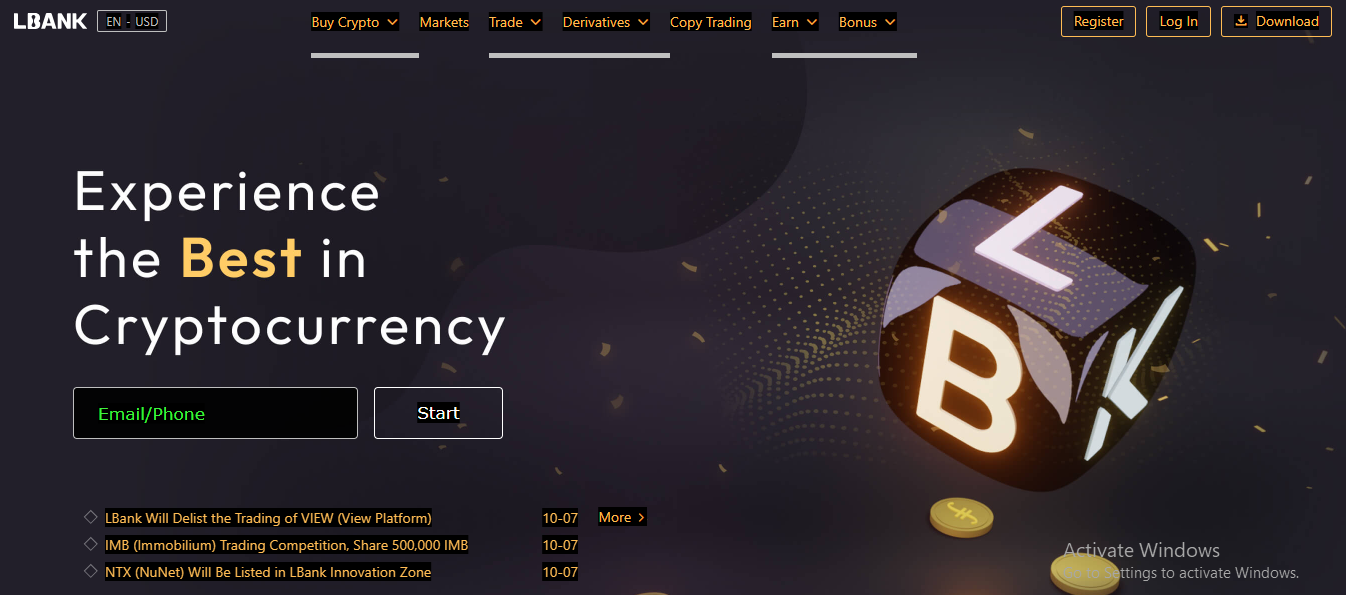 LBank is one of the world's leading cryptocurrency exchanges, offering a wide range of crypto trading pairs and features. Established in 2015, LBank aims to provide safe, stable, and high-quality digital asset trading services to users all over the world.
What Can You Trade on LBank?
LBank offers over 200 trading pairs, including major coins like Bitcoin, Ethereum, and Litecoin. You can trade popular altcoins, DeFi tokens, and stablecoins on LBank as well. The exchange has its own native token called LBK, which can be used to get discounts on trading fees.

Fees
LBank uses a maker-taker fee model. Maker fees are 0.2% and taker fees are 0.2% for most traders. If you pay fees using the LBK token, you can receive up to a 50% discount. LBank does not charge any deposit fees for crypto deposits. Fiat currency deposits and withdrawals also have no fees.
Security
LBank takes security very seriously and has never been hacked before. They use offline cold wallets to store the majority of digital assets, advanced encryption, and 2-factor authentication to help keep funds secure. However, as with any exchange, there is always some risk of cyber theft, so only deposit and trade crypto that you can afford to lose.
Overall, LBank is a reputable, secure, and low-cost exchange for cryptocurrency trading. With many trading pairs, 24/7 customer support, and a simple user interface, LBank has a lot to offer for crypto investors and traders of all experience levels.
Trading on LBank: Supported Cryptocurrencies and Fees
Trading on LBank is easy once you fund your account and familiarize yourself with the layout. LBank supports over 250 cryptocurrencies, so you'll have lots of options to choose from.
To start trading, you'll need to deposit either crypto or fiat currency into your LBank account. The major coins like Bitcoin, Ethereum, and USDT are all accepted. Fiat deposits are currently accepted in USD.
Once your funds are in your account, you can trade on the LBank exchange. They offer spot trading, margin trading, and futures trading. For beginners, spot trading is the easiest to understand. You're simply buying and selling crypto for the current market price.
LBank charges a 0.2% trading fee for all spot trades. That's lower than many other major exchanges. They also frequently run promotions that reduce fees or rebate a portion of fees paid.

It has a simple but highly functional trading interface. You'll see graphs, order books, trade histories, and the option to place market, limit, and stop-loss orders.
For more advanced traders, LBank also offers API access to enable automated trading strategies and bots. Overall, LBank provides a great platform for trading a wide range of cryptocurrencies at a low cost.
LBank Wallet: Storing Your Crypto Assets
LBank has its own built-in cryptocurrency wallet to store your digital assets. When you first sign up for a LBank account, a wallet is automatically created for you. This makes it easy to deposit, withdraw, and trade crypto on the exchange without having to transfer funds between an external wallet and the exchange.
Security
LBank employs a multi-layered security system to help keep your funds safe. Things like two-factor authentication, SMS authentication, and device management help prevent unauthorized access.
The exchange also uses offline cold storage for the majority of assets, with only a small portion kept in online hot wallets to facilitate trading. This helps mitigate the risks of hacking and theft.
Supported Coins
LBank supports a variety of major cryptocurrencies in its wallet, including:
Bitcoin (BTC)

Ethereum (ETH)

Litecoin (LTC)

Bitcoin Cash (BCH)

Ripple (XRP)

Tether (USDT)

And over 50 more.
In total, the LBank wallet supports nearly 60 different crypto assets, so you have plenty of options to choose from.
Deposits and Withdrawals
Moving funds in and out of your LBank wallet is straightforward. You can deposit crypto by sending it to your wallet's address or QR code. Withdrawals can be made at any time by entering the amount you want to withdraw and the address you want to send it to. The processing times vary by asset but are typically completed within 1 to 3 business days.
Using the LBank wallet makes it simple to manage your crypto funds on the exchange. And with a variety of security features in place, you can have confidence that your digital assets will be kept safe and secure.
LBank Security: Is Your Money Safe?
When it comes to cryptocurrency exchanges, security should be one of your top priorities. After all, you don't want your funds or personal information falling into the wrong hands. So, how does LBank measure up in this regard?
LBank employs a variety of security protocols to help keep your account and assets safe. They use two-factor authentication, requiring both your password and an SMS code to log in. LBank also allows you to set up Google Authenticator for an extra layer of protection. Your funds on LBank are also secured. The exchange stores most digital assets in cold wallets – offline storage locations that are not connected to the internet.
Only a small portion of funds are kept in hot wallets for day-to-day operations. LBank also has insurance to cover losses from security breaches. When it comes to your personal information, LBank uses strong encryption to protect data and has a strict policy for how employees access information.
They also conduct regular audits and penetration tests to identify any potential vulnerabilities. Of course, as with any exchange, there are still risks to be aware of. Make sure you use a strong, unique password for your LBank account, enable 2FA, and be cautious of phishing emails or messages. As long as you take reasonable precautions, LBank's security features should help ensure your funds and data remain protected.
Pros and Cons of Using LBank Cryptocurrency Exchange
When considering using LBank as your cryptocurrency exchange, it's important to weigh the pros and cons. Here are some of the main benefits and drawbacks to keep in mind.
Pros
Trustworthy: LBank has been operating since 2016 and is one of the world's leading cryptocurrency exchanges. They offer a wide selection of coins and tokens to trade, with over 200 crypto assets available. Fees are also relatively low, at just 0.2% per transaction.
Security: Security and customer support are priorities for LBank. They use advanced encryption technology to help protect your funds and personal information. You can also reach their support staff 24/7 via online chat, email or phone.
Easy to Use Interface: The LBank platform is easy to use, even for beginners. You can easily deposit and withdraw funds, buy and sell crypto, and store coins in the LBank wallet or your own external wallet. They also have educational resources to help you learn more about blockchain and crypto.
Wide Range of Cryptocurrencies: LBank offers a diverse selection of cryptocurrencies, allowing users to access a variety of trading options.
Cons
Limited Regulation: LBank's operations might be subject to limited regulatory oversight, which could raise concerns for some users about transparency and consumer protection.
Trading Fees: The trading fees on LBank can be relatively higher compared to some other exchanges, impacting the overall profitability for frequent traders.
Final Thought
Undoubtedly LBank is one of the most popular crypto exchanges out there. They offer a huge selection of coins at low fees, with an easy-to-use interface.
The customer support leaves a bit to be desired, but as long as you do your own research before trading obscure altcoins, you should be right. LBank is a solid choice if you're looking to buy and trade major cryptocurrencies.
Just make sure you enable 2FA, choose a secure password, and never share your account info with anyone. Thank you all for reading this article.