Coinbase is one of the most popular crypto exchanges out there. As one of the first mainstream companies to embrace blockchain technology, Coinbase makes it simple and secure for everyday people to buy and sell major cryptocurrencies like Bitcoin, Ethereum, and Litecoin.
With over 35 million users, Coinbase is the perfect place for beginners to get started. Their user-friendly interface and helpful educational resources will have you buying and trading crypto in no time. Whether you're looking to invest seriously or just want to dabble in digital currency as a hobby, Coinbase can be an ideal platform. \
We're going to share a review on the Coinbase exchange so that you can know whether you should invest in it or not. So, let's dig into this article.
An Overview of Coinbase Exchange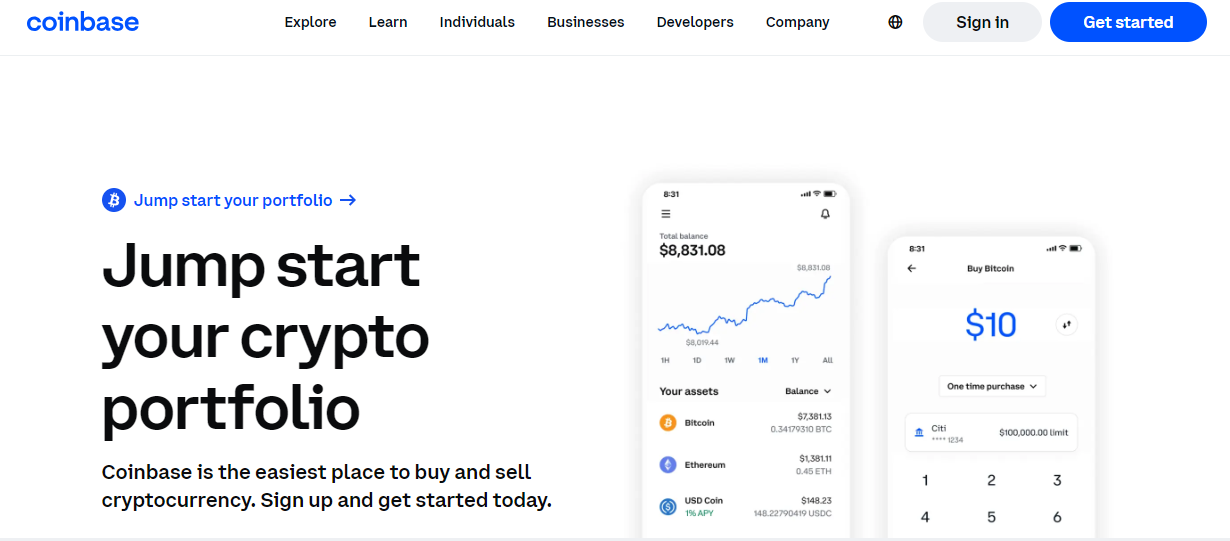 Coinbase is one of the most popular cryptocurrency exchanges, and for good reason. Founded in 2012, Coinbase is a secure platform for buying, selling, transferring, and storing digital currency. Here's an overview of what you need to know:
Coinbase currently supports trading for some of the most well-known cryptocurrencies, including Bitcoin, Ethereum, and Litecoin. They are always evaluating new coins to add, so the options are constantly expanding. You can buy or sell these cryptocurrencies using USD or other government-issued currencies.
To get started, you'll need to create an account and verify your identity. This typically only takes a few minutes. Once verified, you can link a bank account or debit/credit card to easily deposit and withdraw funds. Coinbase does charge transaction fees for all buys and sells, typically around 3.99% per trade.
The Coinbase interface is very user-friendly, even for beginners. You can view your portfolio balance, see price charts, set price alerts, and place market or limit orders with just a few taps. For more advanced traders, Coinbase Pro (formerly GDAX) offers a more robust trading experience with lower fees.
Security is a top priority for Coinbase. They use strong encryption, and multi-factor authentication, and store the vast majority of digital assets in secure vaults offline. U.S. residents also have FDIC insurance on USD funds held with Coinbase.
Coinbase is a great option for anyone looking to safely buy and trade major cryptocurrencies. Their platform is intuitive, their fees are reasonable, and they have a proven security track record.
For these reasons, Coinbase remains a popular exchange for first-time crypto buyers and experienced traders alike.
Coinbase Exchange Fees: Are They Reasonable?
Coinbase charges fees for buying, selling, and trading cryptocurrency on their exchange. But are the fees reasonable compared to other exchanges? 
Coinbase charges a spread of about 0.50% for buying and selling cryptocurrency. It means if the market price of bitcoin is $10,000, you'll pay $50 to buy or sell 1 bitcoin. This spread acts like a commission. In addition to the spread, Coinbase charges a transaction fee based on your funding method. Transactions funded with a bank account or Coinbase USD wallet are charged a fee of 1.49%. Debit card transactions incur a 3.99% fee. These fees are a bit higher than other exchanges.
If you want to trade one crypto for another, Coinbase charges a conversion fee of up to 2% of the transaction total. Again, this is on the higher end of crypto exchange fees. However, Coinbase does offer lower fees through their Coinbase Pro platform. Fees there range from 0% to 0.50% based on your trading volume. This can save you a significant amount compared to regular Coinbase fees.
Coinbase's fees may be higher than other exchanges, but some users find the fees reasonable given Coinbase's focus on ease of use, security, and customer support. For casual buyers and traders, Coinbase's fees are probably fine. But for frequent traders or those buying and selling large amounts, the fees can really add up. In those cases, Coinbase Pro is a much more affordable option.
Overall, you need to weigh the pros and cons for your own needs. For many crypto beginners, Coinbase's higher fees are a small price to pay for an easy and trusted onboarding experience. But as you get more serious, it pays to explore lower-cost options.
Coinbase Exchange Security: Is Your Money Safe?
Coinbase is one of the most popular cryptocurrency exchanges, so security is a top priority for them. They take precautions to ensure your money and information remain safe. But is it really safe?
Secure Storage
Coinbase stores 98% of digital assets in secure offline storage, with the remaining in secure online storage. All accounts have two-factor authentication and Coinbase monitors for suspicious account activity 24/7. They also have insurance in the event that funds are lost or stolen.
Regulated and Compliant
Coinbase is regulated as a money transmitter, so it must comply with financial regulations. They are also regularly audited to ensure compliance. All US dollar balances are covered by FDIC insurance up to $250,000 per account.
User Control
You maintain full control of your funds on Coinbase. They do not have access to your funds and you can withdraw your money at any time. Private keys to your crypto wallets are encrypted and only accessible to you. Coinbase cannot access or freeze your funds.
Responsible Disclosure
Coinbase has a responsible disclosure program where security researchers can report any vulnerabilities found in their systems. They aim to remedy issues within 90 days. Over $200,000 in bug bounties have been paid out so far. While no system is perfectly foolproof, Coinbase has a good track record of keeping customer funds and information secure. However, there is always some risk when using any cryptocurrency exchange.
Do your own research, enable all security features, and never invest more than you can afford to lose. If security is a top concern, you may want to explore cold storage wallet options as an alternative. But for convenience and an easy way to buy, sell, and trade crypto, Coinbase is a solid choice.
Depositing and Withdrawing Funds on Coinbase Exchange
To deposit and withdraw funds on Coinbase, you have a few options. The methods available to you will depend on your country, but typically include:
Bank Accounts
Linking a bank account is a popular way to move money on and off Coinbase. After verifying your bank account, you can use it to deposit and withdraw funds from your USD wallet and Coinbase account. Deposits are instant but withdrawals typically take 3-5 business days.
Wire Transfers
For larger transfers, wire transfers are a convenient option. You can wire funds from your bank account directly to your Coinbase account. Deposits are credited the same day but come with a $10 fee from Coinbase and potentially additional fees from your bank. Withdrawals via wire transfer are usually complete within 1 business day.
Debit Cards
Some locations allow you to instantly buy and sell crypto using a debit card. This is a fast and fee-free way to get started with smaller amounts. However, you typically won't be able to withdraw funds to a debit card.
PayPal
If available in your region, you can deposit and withdraw funds through your PayPal account. It allows for instant transfers to and from your connected USD wallet and bank account. PayPal withdrawals are free but deposits incur a small fee.
USD Wallets
Your USD wallet acts as a hub for all your cash transactions on Coinbase. You can deposit to and withdraw from the wallet using the methods above, and easily convert funds between it and your crypto balances or Coinbase account. Deposits and withdrawals are free and instant.
Coinbase aims to provide a trusted and regulated platform for accessing the crypto economy. Their selection of deposit and withdrawal options, focus on compliance and platform security give you the confidence to fully leverage their crypto exchange and tools.
Pros and Cons of Coinbase Exchange
Yes, Coinbase is a great platform to get started. But it also has some drawbacks. Check out its good and bad things before investing in it.
Pros:
User-Friendly Interface

Security Measures

Wide Range of Cryptocurrencies

Regulatory Compliance
Cons:
Limited Features:

Limited Availability

Poor Customer Support
Should you Go for Coinbase Exchange?
Now the most important question arrives, should you use Coinbase as your crypto exchange? Here are some things to consider if you want to use it:
Coinbase is beginner-friendly
Their easy-to-use interface and simple buying/selling process are appealing to new crypto traders. You can quickly buy popular coins like Bitcoin, Ethereum, and Litecoin with a debit card. For newbies, Coinbase is a great place to get started.
Fees can be high
Coinbase's convenience comes at a cost. Their fees are generally higher than other exchanges, ranging from 1.49% to 3.99% per transaction depending on the amount. If you're an active trader, these fees can really add up over time.
Offers solid security
Coinbase uses strong security measures like 2-factor authentication to help protect your account. They also keep 98% of customer funds offline in cold storage for maximum protection. Security is a top priority for Coinbase.
Has limited coins
It only offers a small selection of major cryptocurrencies. If you want to trade smaller altcoins, Coinbase may not have what you're looking for. You'll need to use another exchange that offers a wider range of coins.
Customer support needs improvement
Their customer support has a poor reputation. Many users report long delays for help requests and limited options to contact support. If you need help urgently, their customer service could be frustrating.
Overall, Coinbase is a reputable, user-friendly exchange that's suitable for beginners. But their fees and limited selection may motivate you to eventually switch to a different exchange. For buying and selling major coins with convenience, Coinbase does the job. For active trading or accessing a wider range of altcoins, you may want to explore other options.
Final Thought
As you can see, Coinbase has a lot to offer for both novice and experienced crypto traders with its simple interface, educational resources, and security features.
At the end of the day, you need to go with what makes you comfortable when it comes to investing your money. If an established, regulated exchange with a focus on newbie-friendliness is what you're looking for, Coinbase is a solid choice.