You must have heard about cryptocurrency trading and want to get in on the action. But with so many exchanges out there, how do you know which one is right for you?
Let us introduce you to Binance, one of the world's largest crypto exchanges. Whether you're a professional or just getting started, Binance has something for everyone.
In this article, we're going to give you a review on Binance so you can decide if it's the right exchange for your needs. So, don't wait anymore. Let's dig into this article.
Overview of Binance Exchange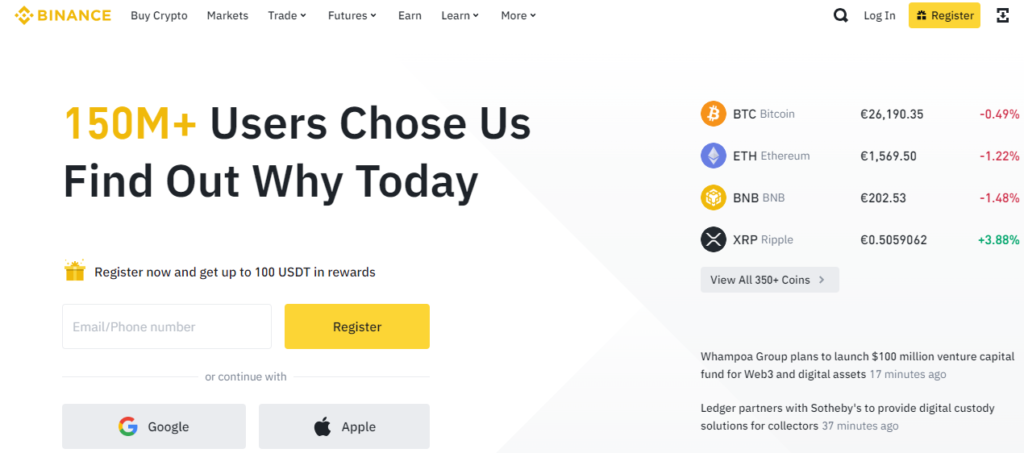 Binance is the world's largest cryptocurrency exchange by trading volume. This makes it a top choice for many crypto traders and investors. It allows you to trade over 500 different cryptocurrencies, including major coins like Bitcoin, Ethereum, and Binance Coin (BNB). With low fees of just 0.1% per trade, Binance is affordable and accessible for casual traders. They also frequently run promotions and contests where you can win free crypto! 
On the downside, Binance's huge selection of coins means there are many low-quality projects and potential scams to watch out for. And with such a large user base, Binance's customer support can be slow to respond. The platform is also targeted by hackers and scammers. So, you'll need to take security seriously by enabling 2FA and not sharing account info or passwords with anyone. For most users, the pros of variety, low fees, and rewards programs outweigh the potential downsides.
If you stick to well-known coins, enable security features, and don't keep too much money on the exchange, Binance can be a great place to start your crypto trading journey! Overall, Binance offers an easy-to-use platform for buying, selling, and trading a huge range of cryptocurrencies at very competitive rates. While the risks that come with its large size are worth considering, Binance remains one of the top choices for anyone interested in crypto trading.
Binance Fees: Are They Really the Lowest?
The fees are important to consider if you're looking to actively trade crypto. Binance does have a competitive fee structure, but are they really the lowest? For most trades, Binance charges a 0.1% maker/taker fee. It means if you place an order that gets filled immediately (taker), or place an order that gets filled later (maker), you'll pay 0.1% of the total transaction amount. This is lower than the industry average and most major exchanges.
However, Binance does offer lower fees if you hold their native BNB token or have a high trading volume. If you hold BNB, you automatically get a 50% discount on fees. Binance also uses a tiered fee structure based on your 30-day trading volume. The more you trade, the lower your fees. At the highest VIP 8 level, maker/taker fees are as low as 0.02%/0.04%.
While the potential for very low fees is appealing, the tiered structure disproportionately benefits large-volume traders. The majority of casual traders won't reach those lower fee levels. Their withdrawal fees can also be high depending on the coin. It's free to deposit and withdraw fiat currencies, but crypto withdrawals incur a fee.
Overall, Binance does have a competitive fee structure with the potential for very low fees for high-volume traders. However, the fees are still within the average range of major crypto exchanges. The tiered fee levels and withdrawal fees are worth considering based on your specific needs and trading volume. With a little effort, you can likely find lower fees on other platforms, but you may sacrifice some of the benefits of using a large, popular exchange like Binance.
Binance Security: How Safe Is Your Money?
When it comes to cryptocurrency exchanges, security is a top concern. Binance takes security seriously and employs some of the latest protections, but no system is perfect. It's important to understand the risks before depositing your money or crypto on any exchange. Binance uses two-factor authentication (2FA) to log in to your account. This adds an extra layer of protection for your login and withdrawals.
However, some users have reported that SMS text 2FA—which Binance uses can be vulnerable to sim-swapping attacks. For maximum security, use an authentication app like Google Authenticator instead. Binance also offers address whitelisting. It only allows withdrawals to addresses you pre-approve. This can prevent hackers from stealing your funds, but you need to be meticulous in setting it up properly.
It also uses a hot and cold wallet system to store assets. Only a small portion is kept in the hot wallet for liquidity, while the vast majority is in air-gapped cold storage. No exchange is immune to hacks, and Binance has been targeted before. In 2019, hackers stole $40 million worth of crypto from Binance, though the company covered all losses.
The hack was due to a security vulnerability, which Binance has since addressed, but the possibility of future hacks still exists. While Binance works to prevent fraud, some users have been victims of phishing emails and malware seeking account access.
Never click links or download attachments from unverified Binance communications. Binance will not ask for sensitive data or account access. For many, the rewards of using Binance outweigh the risks. But go in with your eyes open, use all security features, and never invest more than you can afford to lose. If you're still concerned, you may prefer an exchange with more comprehensive security like Coinbase or Gemini. But for an all-in-one crypto trading platform, Binance is hard to beat.
Binance Cryptocurrency Exchange- Pros & Cons
Though Binance is one of the largest cryptocurrency exchanges globally, it has some bad things as well. We're going to share some of its good and bad things. So, keep reading.
Good things about Binance:
Wide range of cryptocurrencies: Binance offers a vast selection of cryptocurrencies for trading, including popular and emerging ones. This variety allows users to explore different investment opportunities.
High liquidity: Binance has deep liquidity, meaning that users can easily buy or sell cryptocurrencies without significant price fluctuations.
Advanced trading features: The platform offers various trading options, including spot trading, futures trading, and margin trading, catering to both beginners and experienced traders.
Strong security measures: Binance has implemented robust security measures, such as two-factor authentication and cold storage for user funds, to protect against hacking and unauthorized access.
Binance Coin (BNB): Binance has its native cryptocurrency, BNB, which provides users with benefits like reduced trading fees and participation in token sales.
Bad things about Binance:
Regulatory concerns: Binance has faced scrutiny and regulatory challenges in several countries due to concerns over compliance and potential illicit activities.
Customer support: Some users have reported issues with Binance's customer support, including delayed responses and difficulty resolving problems efficiently.
Limited fiat currency support: While Binance offers a wide range of cryptocurrencies, the availability of fiat currency options for deposit and withdrawal is limited compared to some other exchanges.
User interface complexity: Binance's trading interface can be overwhelming for newcomers, as it offers numerous features and trading options that may confuse beginners.
Potential system overload: During periods of high market activity, Binance has experienced occasional system overload, leading to temporary service disruptions.
Should you Go for Binance Exchange?
There is no doubt that Binance is one of the world's largest cryptocurrency exchanges. Now the question is, should you use it? Here are some things to consider:
Low Fees
Binance charges some of the lowest fees of any major exchange, at just 0.1% per trade. They also offer discounts if you pay fees in BNB, Binance's own token. This is great if you're an active trader.
Wide Selection
Binance offers a huge selection of cryptocurrencies to trade – over 500 at last count! Whatever obscure coin you want to trade, chances are Binance has it. They're always adding new coins too.
Security
Binance takes security seriously and uses industry-standard security protocols to keep funds safe. However, in 2019 they did experience a hack where $40 million in Bitcoin was stolen. As with any exchange, only keep funds on there that you intend to actively trade.
Customer Support
Binance's customer support leaves something to be desired. They are often slow to respond and responses can be unhelpful. If support responsiveness is important to you, this is something to consider.
Restricted Access
Binance is banned or has limited functionality in some countries, including the US (though Binance.US is available). Some users also report difficulty withdrawing funds at times. Do some research to make sure Binance works for your location and needs.
So, should you start trading on Binance? For the low fees, wide selection, and generally solid security, it can be a good choice for many traders.
However, the lackluster customer support and the possibility of withdrawal issues are things to keep in mind. As with any exchange, do your own research to determine if the pros outweigh the cons for your needs.
Final Thought
Binance is a solid platform for both new and experienced crypto traders. With low fees, a wide range of coins, and a variety of trading options, Binance makes it easy to start buying and selling digital assets.
However, the confusing interface, limited customer support, and strict regulations in some countries may turn off some users. As with any exchange, do your own research to make sure Binance meets your needs before funding your account.
If you go in with realistic expectations about what Binance offers, you'll likely find it a useful place to trade cryptocurrency. But if you're still unsure, there are plenty of other reputable exchanges out there. The choice is yours!