As one of the original pioneers of online forex trading, OANDA has built up a reputation over the past 25 years as a trusted and innovative broker.
But with so many options out there, how do you know if Oanda is the best choice for your trading needs? This in-depth review will give you the full scoop on everything OANDA has to offer so you can decide if it's the broker for you.
We'll explore OANDA's trading platforms, available markets, customer service, regulation, and more. So, let's dig into this article.
An Overview of Oanda Corporation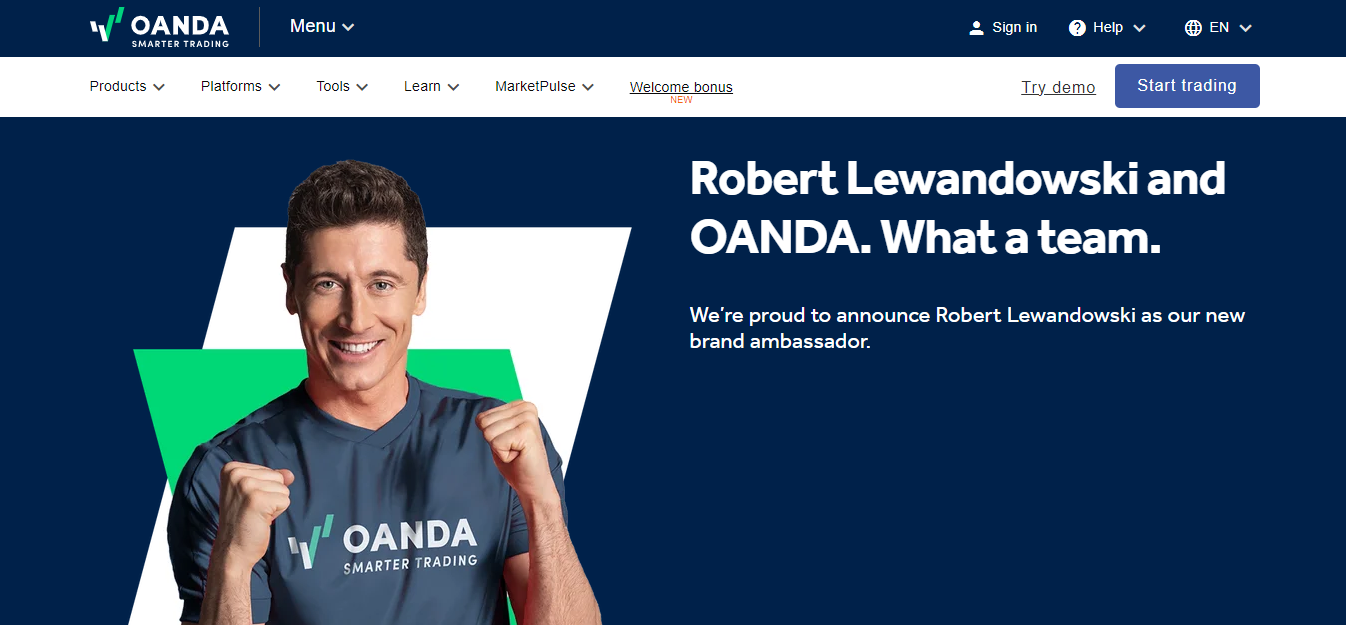 Oanda Corporation is a reputable online forex broker that provides currency conversion and trading services to retail and institutional clients. Founded in 1996, Oanda is a pioneer in developing forex trading technology and online forex services for the retail market.
Headquartered in the U.S., Oanda has offices in Canada, the UK, Australia, and Japan. They are regulated in all the major jurisdictions, so your funds and personal information will be secure. Oanda offers competitive spreads and over 70 currency pairs to trade. Their fxTrade platform is available as a desktop app, web trader, and mobile app so you can trade whenever and wherever.
Oanda doesn't charge any commissions for forex trades. They make money through the bid-ask spread, so the tighter the spread, the lower your cost. Spreads are variable though, so they may widen during volatile market periods. Oanda's spreads are consistently lower than the industry average, which helps maximize your potential profits.
With no minimum deposit, free demo accounts, and a huge range of educational resources, Oanda is ideal for new and experienced forex traders. Their customer service is available 24 hours a day, 5 days a week to provide support when the forex market is open.
Oanda's Trading Platforms and Tools
Oanda's trading platforms offer advanced tools for technical analysis along with an intuitive interface. Their flagship platform is FXTrade, which comes in web, desktop, and mobile versions.
FXTrade lets you analyze historical data, plot trend lines and Fibonacci retracements, compare currency pair correlations, set price alerts, and more. You'll find over 70 technical indicators and can create multiple charts with different time frames side by side for analysis.
Oanda's Charting Library is free to use and embeddable, so you can view live rates and charts on your own website or blog. They also offer an API for traders who want to build and automate their own trading strategies.
For new traders, Oanda provides demo accounts with $100,000 in virtual money so you can practice for as long as you want before putting real money on the line. Their education hub offers helpful resources for learning forex trading basics.
Between the advanced tools, API access, and practice accounts, Oanda's platforms give both new and experienced traders everything needed to research, analyze trades, and execute orders in global currency markets. With transparent pricing and no minimum deposit, Oanda makes forex trading accessible to everyone.
Is Oanda Safe and Regulated?
Oanda is considered a safe and regulated broker. As with any broker, there are risks to be aware of, but Oanda takes regulation and security seriously.
It is registered with the U.S. Commodity Futures Trading Commission (CFTC) as a Retail Foreign Exchange Dealer and is a member of the National Futures Association (NFA). They follow strict regulatory requirements to ensure the safety of client funds and trading practices. Oanda does not deal in binary options, only spot forex and CFD trading.
This platform segregates all client funds from its operating funds and holds them in separate bank accounts for security. They also participate in investor protection programs that provide coverage of up to $500,000 per account in the event of default.
Oanda's trading platforms utilize strong encryption and two-factor authentication is available to help prevent unauthorized access. Be sure to enable two-factor authentication on your account and use strong, unique passwords.
While Oanda seems to take the necessary steps to ensure safety and regulation for clients, as with any broker, there is always some risk. Do your own due diligence, start with a demo account, and never deposit more money than you can afford to lose. If you exercise caution and educate yourself, Oanda can be a reputable and secure broker to trade with.
Pros and Cons of Oanda Corporation
Every company has its own strengths and downsides. Oanda also has its good things and drawbacks as well. So, keep reading to know its pros and cons:
Pros
Low fees

: Oanda has low spread and commissions. They only charge for forex trades and CFDs. There are no fees for stock trading or cryptocurrency.

User-friendly platform

: Oanda has an easy-to-use platform suitable for beginners. The tools and charts are intuitive.

Wide range of trading instruments

: You can trade forex, cryptocurrencies, stocks, bonds, commodities, and more on Oanda's platform.

Secure and regulated

: Oanda is regulated in several countries, including the US, UK, Canada, and Australia. They use industry-standard security protocols to keep your money and data safe.
Cons
Higher spreads for small accounts:

If you have a small account balance, Oanda's spreads may be higher than competitor's. Larger balances can get lower spreads.

Limited customer service

: Oanda's customer service options are primarily email-based. Phone support and live chat are limited. Response times can be slow.
Final Thought
Oanda has been around for over 25 years and has earned a reputation as a trusted broker for trading the markets. With competitive spreads, a simple and intuitive platform, and great customer service, Oanda makes it easy to get started.
Whether you're a beginner looking to learn the ropes or an experienced trader wanting to access major markets, Oanda has you covered. Open an account and start trading over 70 currency pairs as well as CFDs on stocks, indices, commodities, and more.
Oanda delivers so you can focus on what really matters – finding opportunities and placing winning trades. So what are you waiting for? It's time to experience trading with a broker that puts you first.