Saxo Bank is a great choice if you are looking for a wide product selection with low forex and fund fees. Although the minimum deposit is high, the account opening process is quick and straightforward and the trading platforms are high-quality, with quality research tools. Please keep reading this article and learn more about this platform.
Overview of Saxo Bank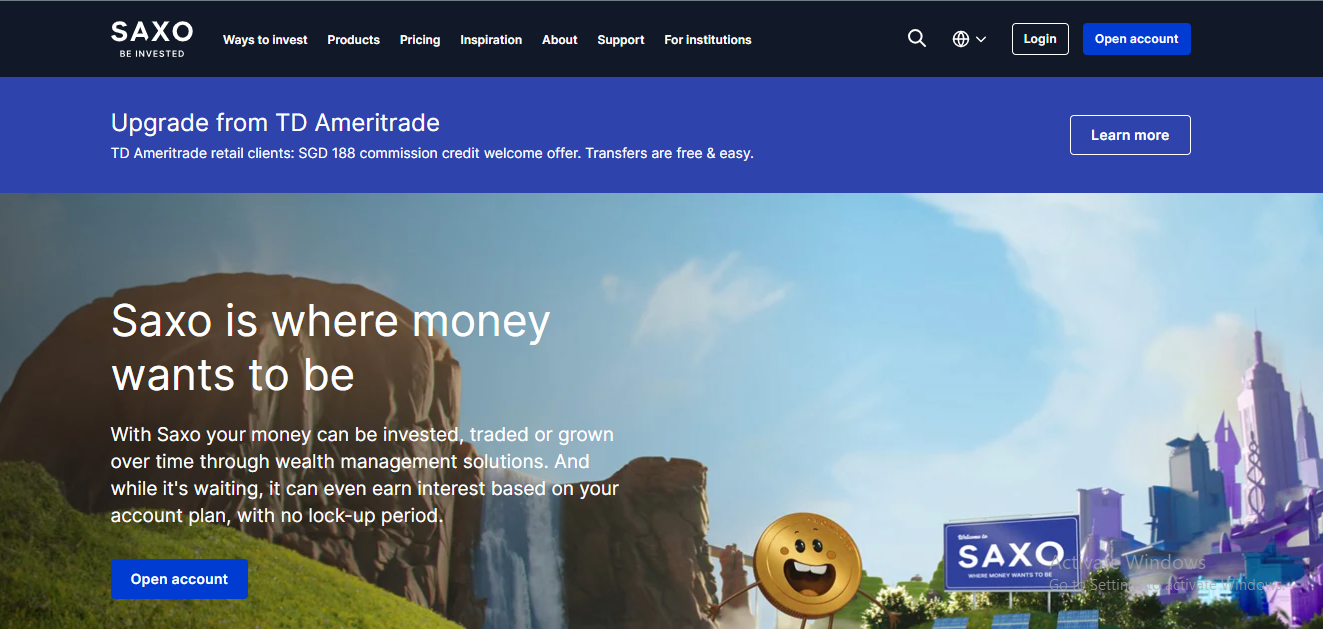 Saxo Bank is a prominent Danish investment bank founded in 1992, offering online trading and investment services. Known for its user-friendly trading platforms, the bank enables clients to access a wide range of financial instruments, including stocks, bonds, forex, commodities, and derivatives.
It has gained recognition for its innovative approach to financial technology, providing retail and institutional investors with advanced tools for trading and investment. Saxo Bank emphasizes transparency and competitive pricing, catering to both experienced traders and newcomers.
With its global presence and comprehensive services, Saxo Bank remains a key player in the online trading and investment landscape.
Regulation & Security of Saxo Bank
Saxo Bank is regulated by several top-tier financial authorities, including the Danish Financial Supervisory Authority and the UK Financial Conduct Authority.
This means your money and data are in good hands. Saxo Bank also takes security seriously, using industry-standard encryptions and two-factor authentication to keep your account info safe.
It provides 24/5 customer service via phone, email, and live chat. Their support teams are knowledgeable and responsive, though live chat may have longer wait times. Saxo Bank also has an extensive education center to help you learn new skills.
Overall, Saxo Bank is a reputable and trusted broker for active traders looking for a multi-asset platform and competitive pricing. With strong regulation and security, a choice of trading instruments, reasonable fees, and good service, Saxo Bank is a legitimate broker.
What You Can Trade on Saxo Bank
When you open an account with Saxo Bank, you'll have access to trade a variety of products across global markets.

Some of the major offerings include:
Stocks
You can buy and sell shares of companies listed on over 30 major exchanges worldwide. Whether you're interested in tech giants, pharmaceutical companies, or anything in between, Saxo Bank gives you access.
ETFs
For easy diversification, Saxo Bank offers over 2,000 exchange-traded funds (ETFs) covering stocks, bonds, commodities, and more. ETFs provide broad market exposure so you can invest in entire sectors or indexes with a single click.
Options and Futures
If you want to trade derivatives, Saxo Bank supports options, futures, and futures options on indexes, stocks, commodities, currencies, and bonds. However, these products do come with more risks, so make sure you understand them fully before trading.
Forex
With no commissions charged on forex trades, you can speculate on over 190 currency pairs through Saxo Bank. Forex markets are open 24 hours a day, so you can act on opportunities whenever they arise.
Bonds
You can invest in government and corporate bonds from around the world. Saxo Bank offers bonds with various maturities so you can find one that matches your investment timeline.
Fees of Saxo Bank
Minimum Deposits
To trade with Saxo Bank, you'll need to fund your account. The minimum deposit to open a Saxo Bank account is $2,000 USD/EUR.
Payment Methods
Saxo Bank offers several convenient payment methods for deposits and withdrawals.
Bank wire transfer – Send money directly from your bank account. Takes 1-3 business days.

Credit/debit card – Instantly deposit up to $50,000 per day with your card. Fees apply.

Electronic wallets – Use services like Skrill, Neteller, or Trustly to transfer money. Funds are available instantly. Small fees may apply.
Withdrawals
Saxo Bank aims to process all withdrawal requests within 24 hours on business days. However, bank wire transfers and credit/debit card withdrawals can take an additional 1 to 3 business days to reflect in your accounts due to processing by third-party payment networks.
Demo Account VS Pro Account on Saxo Bank
| | | |
| --- | --- | --- |
| Aspects | Demo Account | Pro Account |
| Purpose & Function | Practice trading with virtual funds | Live trading with real money |
| Funding & Capital | No real money involved | Requires real capital to fund the account |
| Market Access | Simulated market conditions | Access to real market conditions and instruments |
| Risk & Experience | Zero risk, suitable for beginners | Involves risk, suitable for experienced traders |
| Features & Tools | Limited tools and features | Advanced tools, research, and analysis resources |
Saxo Bank Customer Support
Saxo Bank aims to provide clients with helpful and knowledgeable support. They offer customer service 24 hours a day, 5 days a week via phone, email, and live chat.
Phone Support
Saxo Bank's call centers are located in various countries. Their main centers are in Denmark, the UK, Australia, UAE, and Singapore. You can call them toll-free depending on which country you're calling from. Wait times to speak with a representative are usually under 2 minutes. The customer service representatives are courteous, professional, and able to answer most questions.
Email Support
You can email Saxo Bank customer support and expect a response within 24 hours. They have separate email addresses for general inquiries as well as specific departments like accounts, platforms, education, etc. Emails are answered in a polite and helpful tone. The representatives provide detailed responses to resolve most issues or questions.
Live Chat
Saxo Bank offers live chat support on their website which is available 24/5. The chat agents are knowledgeable and able to provide quick answers and solutions. However, some clients report chat support can be hit or miss at times, with some agents being more helpful than others. The live chat feature is best for simple questions, but phone or email may be needed for more complex issues.
Is Saxo Bank Legit or Scam
Saxo Bank is a fully licensed and regulated bank, so you can rest assured that your money and information are in safe hands. Saxo Bank holds banking licenses in several countries, including Denmark, the UK, France, Italy, UAE, Singapore, Japan, Australia, and others. They are regulated by the Danish Financial Supervisory Authority and other regulators.
It uses advanced security protocols and encryption to protect your data and accounts. They offer two-factor authentication, data encryption, and other security measures.
Your funds are kept in segregated accounts, separate from Saxo Bank's own funds. Saxo Bank is a member of the Danish Guarantee Fund, which protects deposits up to $100,000 in case the company becomes insolvent.
Pros and Cons of Saxo Bank
Pros:
Global Reach: Saxo Bank provides access to a wide range of global financial markets, including stocks, forex, commodities, and more.
Trading Platform: The bank offers a sophisticated trading platform with advanced tools and features for both beginners and experienced traders.
Product Diversity: Saxo Bank provides a diverse range of investment products, allowing clients to create well-rounded portfolios.
Research and Analysis: The bank offers extensive research and market analysis, aiding traders and investors in making informed decisions.
Cons:
Cost: The fees and commissions at Saxo Bank might be relatively higher compared to some other online brokers.
Complexity: The advanced features of the trading platform might be overwhelming for beginners, potentially leading to a steep learning curve.
Final Thought
Saxo Bank seems like a reputable and well-regulated broker where you can trade a variety of assets at competitive rates. Their platform is a bit complex but with some practice, you'll get the hang of it.
While minimum deposits and fees are on the higher end, Saxo Bank's customer service and education resources help justify the cost. If you're an experienced trader looking for an all-in-one broker, Saxo Bank could be worth a try.